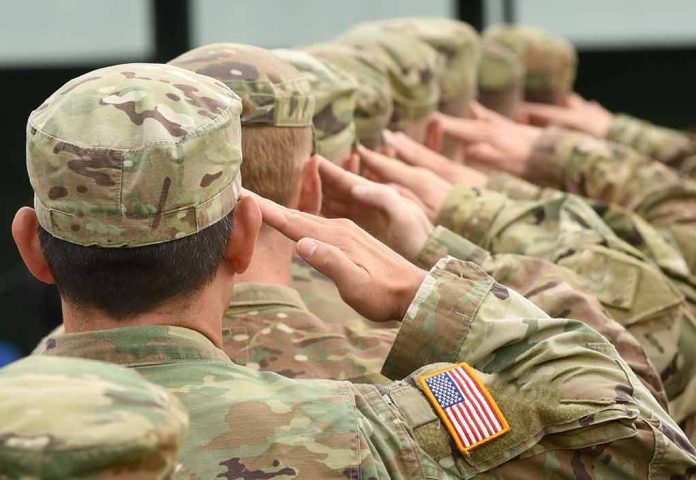 (USNewsBreak.com) – The Israel-Hamas war continues to increase tensions all across the globe, with more nations and people taking sides every day. Arab citizens living in the Middle East are acutely aware of this escalation; many are living through daily disruptions, heightened security measures, and the constant threat of conflict. Meanwhile, US Troops stationed at air bases in Iraq recently came under attack.
Two Attacks on Air Bases
Two separate attacks targeted air bases in Iraq on Wednesday, October 18. The first, which involved two drones, aimed to strike the al Asad air base located in Western Iraq. A second air base, al-Harir, also came under attack.
US coalition forces destroyed two of the one-way drones, an expendable sort with an integrated warhead designed to explode upon impact. They only managed to damage a third one. A handful of troops sustained injuries, and some equipment was damaged.
Shortly after the attacks, Tashkil al-Waritheen claimed responsibility for the drones and said it "heralds more operations" against Americans in the country. US troops are facing an increasing number of threats from Iraqi factions siding with Iran in its warnings to Washington not to interfere. While the US already provided munitions and air defense systems to the Jewish State, and readied 2,000 troops to deploy to serve in non-combat roles, it has not joined the fighting directly.
Just a day after the attacks on Iraqi air bases, US forces intercepted drones headed toward Syrian air bases — Al Tanf and Conoco — as well. Officials have yet to publicly state how many they intercepted, though they did say they thwarted the attacks.
CENTCOM released a statement saying that in the face of heightened tensions and threats "U.S. forces will defend U.S. and Coalition forces," per POLITICO.
Secretary of State Visits Middle East
Secretary of State Antony Blinken recently visited Saudi Arabia and Egypt, meeting with the leaders of the respective countries in an effort to get them to condemn the actions of the militant group Hamas. He was met with a lot of resistance.
Saudi Crown Prince Mohammed bin Salman made Blinken wait several hours before eventually meeting with him. When he did, bin Salman insisted that Israel needs to cease the escalation of the situation. Egyptian President Abdel Fatah El-Sisi reiterated the same message, accusing Israel of driving Palestinians to violence and desperation given the decades-long conflict. He also said Israel's bombing of Gaza exceeds its "right of self-defense" and it's now no more than "collective punishment," something the Sisi does not stand by.
Copyright 2023, USNewsBreak.com