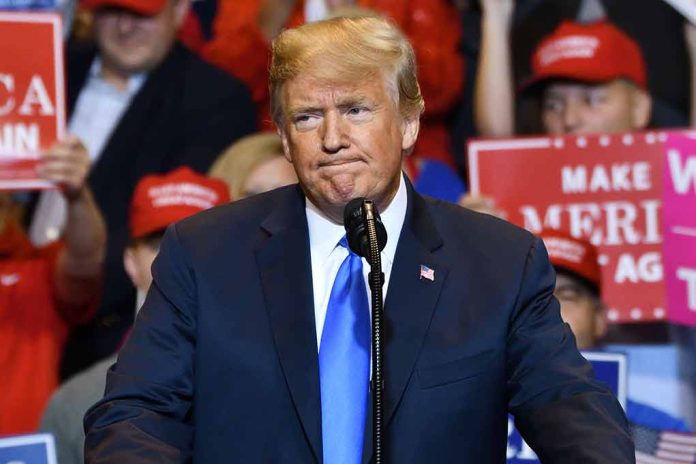 (USNewsBreak.com) – Former President Donald Trump has found himself in hot water many times in recent months. He's facing a plethora of legal challenges on both the civil and criminal level, including 91 felony indictments, which don't seem to be slowing down. Now, he's in trouble yet again.
Due to his habit of taking to social media to disparage those who speak out against him, Justice Arthur Engoron issued a gag order against Trump on October 3. The non-dissemination order came after the former president posted a picture of one of Engoron's clerks, claiming she was Senate Majority Leader Chuck Schumer's (D-NY) girlfriend.
Donald Trump was fined $10,000 after the New York judge overseeing his civil fraud trial said the former US president violated a gag order for a second time.

Link: https://t.co/8rVAKhUSHf

— KSL (@KSLcom) October 26, 2023
The courts asked Trump to take down the post. When he failed to follow through on that request, Engoron fined him $5,000. But the story doesn't end there.
On Wednesday, October 25, Trump appeared in court for one of his civil cases. During a break, he spoke with reporters in the hallway and said Engoron "is a very partisan judge, with a person who's very partisan sitting alongside of him." He then insinuated that the person, who he didn't name, was "even much more partisan."
When court resumed, Engoron, who figured the comments were about the very clerk he posted on social media, asked Trump, who sat on the witness stand, about the comments. The former commander-in-chief said it was in regards to Engoron and Michael Cohen, his former lawyer who was testifying against him. Engoron disagreed and called the comments to reporters a "blatant" violation of the order against him. He levied another fine for $10,000 in response.
Engoron left Trump a final parting warning: "Don't do it again or it will be worse." He could face jail time if he refuses to follow the order.
The civil case revolves around the former president's business dealings in New York City. Attorney General Letitia James is seeking $250 million in damages and a ban on Trump or his family members doing business in the state.
Copyright 2023, USNewsBreak.com