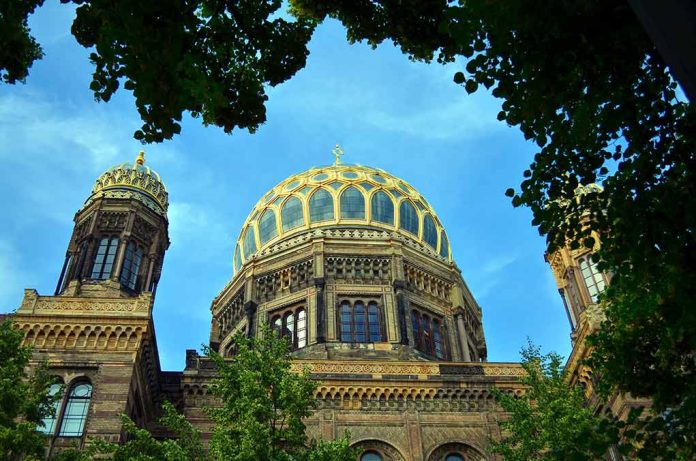 (USNewsBreak.com) – When Hamas attacked Israel earlier this month, it set off a firestorm of tensions across the globe. Israel immediately retaliated, and the melee rapidly devolved into an all-out war. In the aftermath, Jewish institutions everywhere suddenly found themselves a potential target of unknown assailants siding with Hamas. Now, German Chancellor Olaf Scholz is speaking out in the wake of an attack on a synagogue in Berlin, Germany.
On Wednesday, October 18, at around 3:45 a.m., camera footage caught two people approaching Kahal Adass Jisroel synagogue in Berlin's Mitte neighborhood. They threw Molotov cocktails at the building, which burst into flames, and then scurried away.
Authorities are investigating the incident, but say the perpetrators had their faces covered, which could make them difficult to identify.
Chancellor Olaf Scholz denounced the action shortly after it happened, saying that Germany "will never accept when attacks are carried out against Jewish institutions."
German Chancellor Olaf Scholz condemned a firebomb assault on a synagogue in Berlin. The synagogue was attacked with Molotov cocktails as antisemitic incidents in the German capital have been rising following the violent escalation in the Middle East. https://t.co/KYquQMQtxM

— The Associated Press (@AP) October 18, 2023
Representatives for Kahal Adass Jisroel community center also addressed the situation on social media platform X, formerly known as Twitter. The synagogue posted a picture of the aftermath, which shows a blockaded road.
The Central Council of Jews outright called the incident a "terrorist attack."
The strike leaves many in the area, particularly those who attend the synagogue and other facilities at the Kahal Adass Jisroel community center, fearful. Rabbi Shlomo Afanasev, who has attended since 2006, said until now, members have felt "very safe" there. He is now left questioning whether it is safe to "be openly Jewish."
In the wake of Hamas' unexpected incursion into Israel, cities around the globe began heightening security within and around Jewish institutions. Authorities cited concerns that supporters of the militant group may target these places or other pose a threat to their congregants. Local law enforcement agencies in multiple areas, including the US, have ramped up patrols and security protocols around synagogues and Jewish-owned businesses. Attacks on any of these constitute a hate crime in the US.
Copyright 2023, USNewsBreak.com