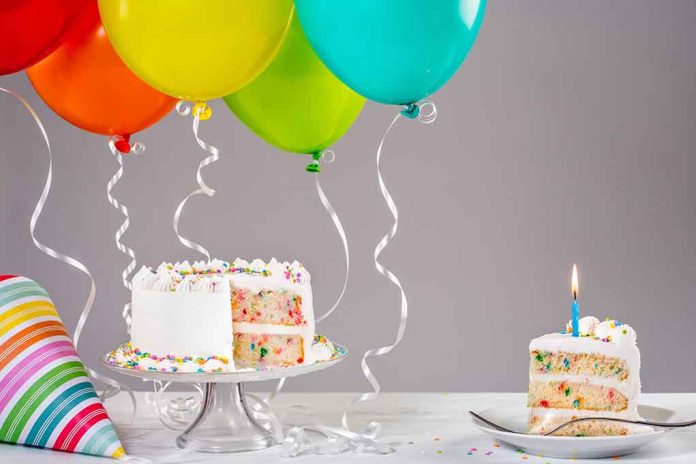 (USNewsbreak.com) – Eight-year-old Missouri resident Kason Johnson's last birthday seemed to be ending on a sour note. The young lad had just left a party at school with a bunch of gifted balloons firmly in hand — or so he thought. He suddenly lost his grip and was forced to watch them spin toward the sky and well out of reach.
But that wasn't the end of the story for Johnson or his balloons. They showed up a short time later, hundreds of miles away in Cleveland, Tennessee, when local resident Todd Huyler found them stuck on his fence.
That's when the story suddenly gained a happy ending.
An envelope attached to the balloons contained the name of the company that created the arrangement and the young boy's name. Huyler, a deeply faithful Christian told Oklahoma 4 News that he had been praying for God to give him a reason to bless someone for some time, saw it as a "message in a bottle." He used the info to track down Kason's teacher, realizing that the balloons were clearly a birthday gift.
But Huyler wasn't content to send them back and call it a day. Instead, he put together a whole basket of goodies for the young boy, jam-packed with hand-made wooden toys and $100 in cold, hard cash.
Next, he penned a letter explaining the situation and praising the family for putting so much effort into loving their son. He sent it and the epic surprise off to Kason's school, which eventually forwarded it to his parents, Kayla and Todd Johnson. They happily passed it on.
Huyler's letter gave an intimate glimpse into a man who clearly has a good heart. "How amazingly fortunate Kason is to have a family that will make the effort to show unselfish love," he wrote.
Newscasters from "Morning in America" brought the family and Huyler together to talk about the remarkable incident live on the air in the days that followed.
Huyler thanked the boy for giving him a reason to bless someone. Kayla Johnson reflected on the moral of the story instead. She explained the stranger's actions showed "there's other Christian people in the world that go through that effort to bless others."
Copyright 2022, USNewsbreak.com