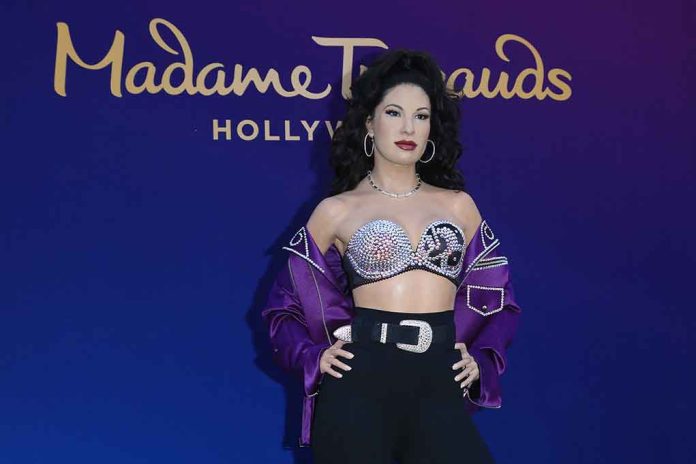 (USNewsbreak.com) – Selena Quintanilla Perez gained more fame in her short 23 years on Earth than most people ever see in a lifetime. The beloved Tejano singer not only managed to capture Mexican and American hearts, but she also attracted adoration from an audience that stretched to the furthest reaches of the globe. When news broke that the president of her own fan club had senselessly murdered her on March 31, 1995, the music world went into mourning.
Yolanda Saldívar shot Quintanilla in the back, reportedly during an argument over finances, and then attempted to flee the scene. Local police eventually tracked her to a hotel parking lot, where they arrested her and charged her with murder. She was eventually convicted and sentenced to life in prison for the crime.
While authorities were confronting Saldívar, a medical team was frantically working on the Tejano singer in an attempt to save her life. Their efforts ultimately failed because the bullet had struck an artery, and she quickly bled out.
In an eerie coincidence, one of the last songs she recorded, "Dreaming of You," was about missing someone. It became an anthem for fans in mourning.
While Saldivar may have succeeded in snuffing out Selena's life, she couldn't even begin to erase the world's love for her or her music. The singer's legacy is still going stronger than ever, nearly two decades after her death. Radio stations continue to play her songs. Fans come together to celebrate her life and listen together. A number of movies and television shows have honored the young singer's life, and her intractable influence on popular culture has held strong through the years.
Netflix published the most recent biopic, titled "Selena: The Series," in 2020. The dramatization immediately reinvigorated the world's love for the singer and won her an entirely new generation of fans.
Selena would have turned 50 in 2021. To captivate an audience for so long is almost unheard of for those who remain alive and present, much less those who are gone. So, what exactly was it about Selena that made her so special, and why does her legacy continue on?
Every fan seems to have a slightly different answer to that question. Certainly, her voice and talent are big parts of the equation. But for Mexicans, Latin Americans, and countless young women living in poverty, her legacy serves as a beacon of hope and proof that success is possible in a frequently challenging world.
Copyright 2022, USNewsbreak.com