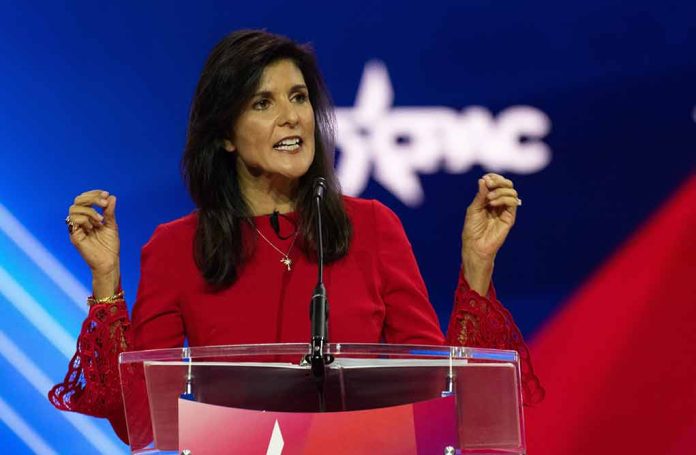 (USNewsBreak.com) – One of the cornerstones of the United States Constitution is the First Amendment, giving citizens the right to free speech. That right allows people to engage on social media, sometimes anonymously, regardless of their opinions. However, Republican presidential hopeful Nikki Haley recently broached the topic of anonymous accounts and received a lot of backlash, causing her to walk back some of her comments.
Haley's Comments
On Tuesday, November 14, Haley appeared in an interview on Fox News, where she talked about what she planned to do in office, provided she won the Republican nomination and then the general election. The issue of anonymous accounts on social media came up, and the former US Ambassador had a very strong opinion about it.
Haley declared that "every person on social media should be verified by their name," calling anonymous accounts a "national security threat." Having people verify their identities would eliminate bots from Russia, Iran, and China, she said. Additionally, she opined it would help eliminate the abuse online, saying people would act more civilly if they weren't under the guise of anonymity.
However, her stance appeared to be a contentious one. The backlash was swift, with many people saying that more government control is not what the US needs. One of her competitors, Governor Ron DeSantis (R-FL), joined the fray. In a post on X, formerly Twitter, he pointed to the Federalist Papers and how the authors were anonymous, citing Haley's assessment of "dangerous and unconstitutional."
You know who were anonymous writers back in the day? Alexander Hamilton, John Jay, and James Madison when they wrote the Federalist Papers.

They were not "national security threats," nor are the many conservative Americans across the country who exercise their Constitutional… https://t.co/YkAGMhUVCX

— Ron DeSantis (@RonDeSantis) November 15, 2023
Charlie Kirk, the CEO of Turning Point USA, also chimed into the conversation, saying that "anonymous speech is a core part of free speech," according to Fox News.
The Walk Back
The following day, Haley walked back some of her comments. Rather than demanding that Americans reveal their identities, she said she doesn't like foreign actors, particularly those looking to harm the US, having the same right. So she said she's not in favor of a total ban on anonymous posters, but that she's not a fan of "anonymous Russians and Chinese and Iranians having free speech." A campaign representative for her later said that social media companies should be doing more to keep bad actors from spreading "chaos and anti-American filth."
Haley is currently trailing behind her biggest competitors in the GOP primary race. As of November 20, FiveThirtyEight has her polling third at 9.3%. Former President Donald Trump leads the pack with 60.3%, and DeSantis trails him at a mere 13.5%.
Copyright 2023, USNewsBreak.com