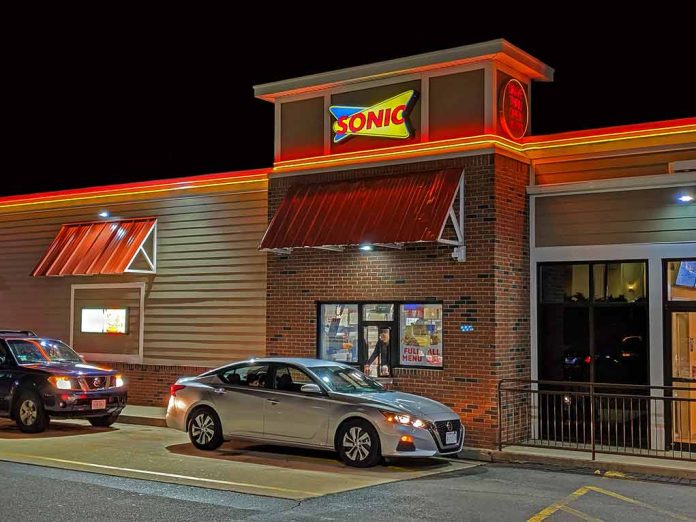 (USNewsBreak.com) – A 12-year-old boy and a 20-year-old man are currently facing murder charges for an encounter that happened at a Sonic drive-through in Keene, Texas. Angel Gomez was reportedly urinating in the parking lot on Saturday, May 13, prompting a restaurant employee to approach him. According to the Keene, Texas, Police Department, an argument erupted between the two, but it quickly turned into a physical altercation. The minor, who was traveling with Gomez, reportedly grabbed an AR-style weapon that was in the vehicle and shot the employee multiple times.
Police received several 911 calls during the shooting, which took place just before 10 p.m. When officers arrived on the scene, they found 32-year-old Matt Davis on the ground, bleeding. He was transported by a care flight helicopter to a local hospital, where he succumbed to his injuries.
There was a shocking murder Saturday night in a small Johnson County town. A 12-year-old boy was arrested for repeatedly shooting a Sonic employee with an AR-15 rifle. https://t.co/NcFMxZ2fLR

— FOX 29 (@FOX29philly) May 16, 2023
After the shooting, both Gomez and the pre-teen fled the scene, but Gomez later returned. He was then taken into custody. Authorities were able to locate the younger suspect later at a residence in Rio Vista and arrest him as well. They also recovered a number of firearms.
Fox 4 reported that Davis was new to the area, having only recently moved there. He had been working at the Sonic location for just two short weeks prior to his death. According to a GoFundMe post set up to cover his funeral costs, the victim leaves behind a 10-year-old son. His family hopes to bury him in Louisiana.
Many people have flocked to pay their respects to the slain employee. The memorial was set up by Jen Baggett, who lives in the area. She said she hopes "it brings a tiny bit of comfort to a horrible thing that happened to them."
The pre-teen is currently being held at a Granbury, Texas, juvenile facility.
Copyright 2023, USNewsBreak.com