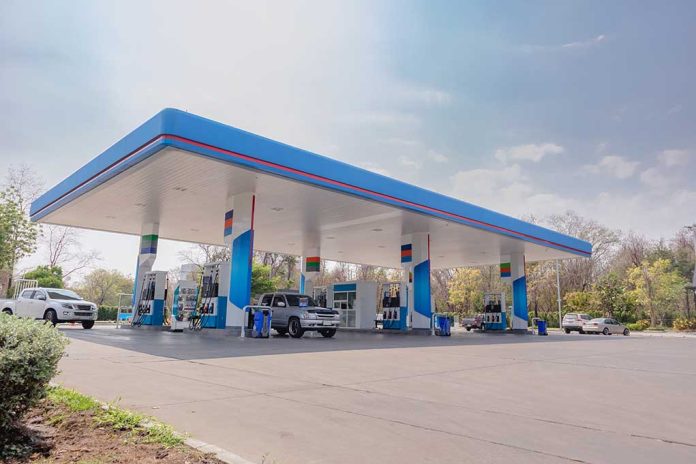 Woman Accused of Killing Boyfriend in HORRIFYING Way – You Won't Believe This
(USNewsBreak.com) – A domestic dispute at a gas station in Arlington, Texas turned into a horrific scene after a woman allegedly doused her boyfriend with fuel and set him on fire back in July. An arrest affidavit and police record obtained by oxygen.com tells a gruesome tale that starts with a fight and ends with a man dying in one of the worst ways imaginable.
Man's skin 'melted off' after girlfriend sets him on fire during fight at Texas gas station: cops https://t.co/VCyilFDBdU pic.twitter.com/r5lKl2MBLT

— New York Post (@nypost) August 4, 2022
The document, signed by Det K. Vickers, says Breana Lashanda Johnson, 24, allegedly poured 50 cents worth of gas on Ricky Doyle, 25, after telling him she was going to kill him. She then casually walked to the driver's side of the Jeep and set the man ablaze.
Doyle exited the Jeep and ran through the station's lot while on fire until another customer used a fire extinguisher to put out the blaze. The man then reportedly stumbled into the store, still smoldering and bleeding, where several people tried to help him. The suspect then managed to escape the scene in her car, although it's reported that a witness tried to stop her.
Doyle was rushed to the hospital and airlifted to a burn unit, where he later died. Police tracked down, arrested, and booked Johnson initially on assault charges. When the victim passed, officials added homicide to the list.
According to a report from NBC DFW, Doyle's younger sister said her family was aware that Johnson had a history of abusing him, but they never expected her to kill him. Meanwhile, the victim's mother told reporters that her son had wanted to be an author.
Copyright 2022, USNewsBreak.com