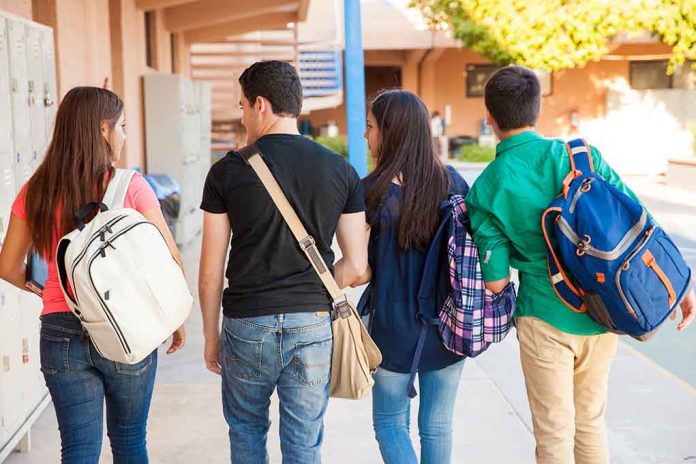 (USNewsBreak.com) – When parents send their children to school, they hold a reasonable expectation that their kids will be safe on campus. While there have been incidents across the country involving adults having inappropriate exchanges with students, one unusual occurrence in a New Jersey school has parents on guard.
On Tuesday, January 24, authorities in New Brunswick, New Jersey, arrested and charged 29-year-old Hyejeong Shin with providing a false government document with the intent to verify one's identity or age. A week prior, she had shown up at New Brunswick High School and attempted to enroll in classes as a student. New Jersey law doesn't require the presence of a guardian to enroll, nor can it turn away a student even if they don't have all the necessary paperwork. Shin allegedly had a birth certificate — however, she had forged the document.
NJ woman pushing 30 fakes way into high school for almost a week before officials noticed https://t.co/xTJBavQCyx pic.twitter.com/y4jsN24Tbt

— New York Post (@nypost) January 25, 2023
Shin's reasons for wanting to join the school and attempting to pose as a student remain unclear. However, in the four days that she attended some classes, she reportedly attempted to make friends with some female students, according to People Magazine. She got their phone numbers, texted them, and invited them to hang out on a specific street: Commercial Avenue.
Staff members uncovered the ruse within a few days, and police took Shin into custody. At a school board meeting, students and parents alike showed up to express their concern about how the woman was able to enroll, but they were unable to speak because they hadn't requested to do so 24 hours prior to the meeting. Parents spoke up about the incident, too. One mother, Yaritza Arroyo, spoke with News 12 New Jersey and said it seemed guardians were "the last ones to know what's going on, and [they] should be the first ones."
In the aftermath, Superintendent Dr. Aubrey Johnson said the school had prohibited Shin from the grounds. The district also plans to review enrollment protocols.
Copyright 2023, USNewsBreak.com