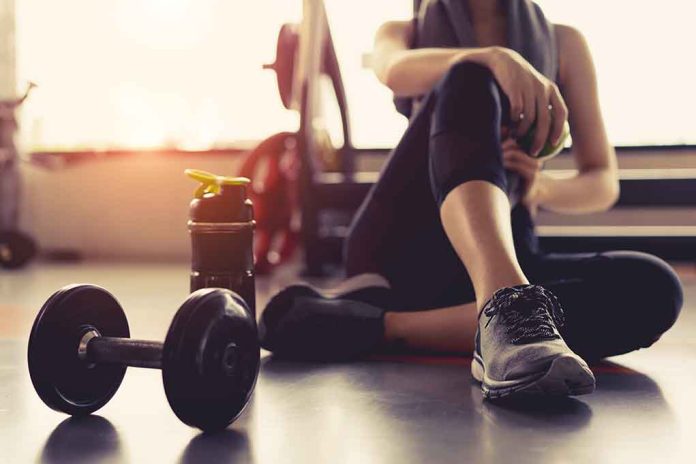 (USNewsBreak.com) – According to the Rape, Abuse & Incest National Network, one in six women is the victim of sexual assault in the United States. Those between the ages of 18 to 34 are at a higher risk. One Tampa woman refused to become another statistic.
On January 22, 24-year-old Nashali Alma was working out alone in the gym of her apartment complex in Tampa, Florida, when she heard a knock at the door. She recognized the man on the other side as someone who used the facilities occasionally and opened to let him in. The situation went terribly wrong just a few minutes later.
The man, later identified as 25-year-old Xavier Thomas-Jones, walked up to Alma and tried to grab her. She shouted at him to leave her alone, but he continued to pursue her, chasing her around the gym. Alma, who is a bodybuilder, was forced to defend herself for several minutes — an encounter that was caught on the security camera inside the facility. At one point, the attacker had her pinned to the floor, but she was able to escape his hold.
Alma courageously fought off her attacker, eventually tiring him out to the point where she was able to flee and run to the nearest apartment and call authorities. The entire encounter lasted eight minutes. Thomas-Jones was arrested the next day.
To honor Alma, the Hillsborough County Sheriff's Office (HCSO) recognized her at their quarterly award ceremony. She received the "Strength and Courage Award," the first of its kind ever granted by the HSCO.
Tampa woman who fought attacker inside apartment gym honored by sheriff's office: 'Strength and Courage' https://t.co/NluEkiQkOy

— _ReportWire (@_ReportWire) March 9, 2023
Alma expressed her gratitude, saying it's important to speak out, "to keep fighting, [and] never give up," according to an HSCO news release. She also stressed how critical it is to call authorities because "the sooner they have the information, the sooner they can catch that person." Sheriff Chad Chronister praised Alma for her "strength, courage, and determination," saying she was "inspiring."
Thomas-Jones is currently facing charges of sexual battery, kidnapping, and false imprisonment.
Copyright 2023, USNewsBreak.com