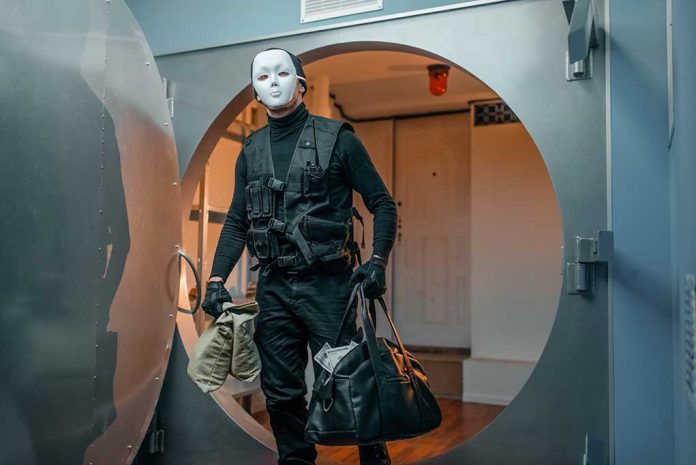 (USNewsBreak.com) – The story of the notorious couple who robbed banks, small stores, and funeral homes — Bonnie and Clyde — is one that many know of thanks to films and musicals based around their lives. Despite the focus on these crimes, they actually robbed fewer than 15 banks. Now, news of another woman named Bonnie is spreading through the media for the same crime, but when police caught up to her, they were shocked. It turns out this would-be robber is 78 years old.
On Wednesday, April 5, workers at the Goppert Financial Bank in Pleasant Hill, Missouri, contacted law enforcement officials to report a robbery. When police encountered the car believed to belong to the suspect, they were surprised to see an older woman step out of the vehicle. They arrested 78-year-old Bonnie Gooch without incident. According to CBS News, prosecutors said she had cash strewn across the floor of the car.
78-year-old Bonnie Gooch arrested for robbing a bank — again https://t.co/XM7FRlOW9v pic.twitter.com/018421HQET

— New York Post (@nypost) April 7, 2023
It turns out that this isn't Gooch's first involvement in such an incident. On January 23, 2020, law enforcement officers arrested Gooch for stealing from a bank in Lee's Summit, Missouri. In this incident, she passed the teller a card demanding $3,000 in specific bills. Police caught up with her shortly afterward and found a hat, wig, and the $3,000 in her vehicle. Her son had tipped police off, saying his mother was "off her rocker" after she left the house while saying she was on her way to "rob a bank," according to Fox 4. Gooch was charged with a class D felony and convicted. Instead of jail time, the court suspended her sentence, and she spent over a year on supervised probation.
However, that wasn't Gooch's first run-in with the legal system. Court records from her 2020 case revealed a 1977 conviction for robbing a bank in California.
Prosecutors formally charged Gooch with the attempted robbery, and the court set her bond at $25,000 cash. Pleasant Hill Police Chief Thomas Wright is trying to determine whether the older woman requires special services while her case makes its way through the courts.
Copyright 2023, USNewsBreak.com