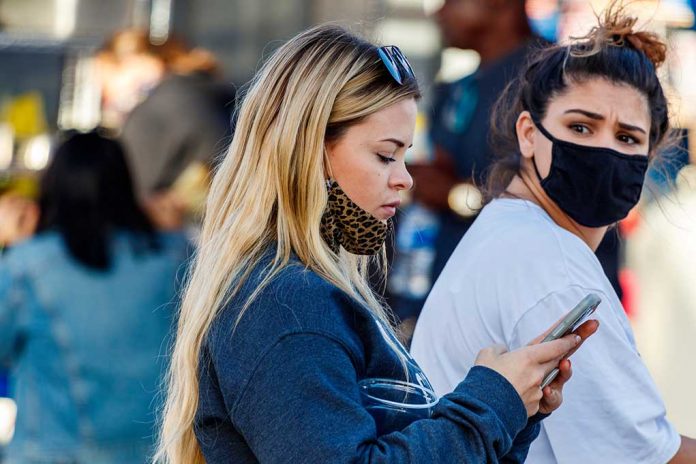 (USNewsBreak.com) – From the very beginning of the COVID-19 pandemic, the rules from the Centers for Disease Control and Prevention have been confusing. This is especially true for messaging about whether or not to wear masks. The only real consistency laid in the fact that guidelines never stayed the same.
Largely chalked up as a result of this being a novel virus, the CDC often dismisses claims of confusion by citing the need for updates alongside quickly changing facts. Yet, more than a year later, the organization still lacks confidence in its orders.
The latest associated puzzle? Whether vaccinated individuals should wear masks. The answer once again seems to contradict prior advice.
The Order
On May 13, 2021, the CDC released new guidance about mask-wearing. It stated that fully vaccinated people do not have to wear a mask in any situation moving forward. They can also cease social distancing practices, gathering as they wish.
The order does allow for exceptions if a local or state law requires mask wearing. Businesses may also optionally leave face covering mandates in place.
Why the Confusion?
Nobody seems to understand if they should wear a face covering or not. While it seems the CDC is saying go forth mask-free, as long as you have had the vaccine, local and state governments aren't even close to being fully on board. Many were caught off guard by the announcement, leaving them unsure of how to move forward with state mandates.
Some people feel safer wearing a mask and are quite leery of whether they are truly safe without it. Others are anxious to celebrate freedom from face coverings. State and local rules are another issue altogether; many are equally mixed.
A huge concern for leaders is how to police the new policy. There is no way to know if a person has had the vaccine, so how is it possible to make sure only those who have are going without a mask?
All of this chaos and lack of direction translates into different rules for different places. No wonder everyone is unclear on what to do.
The White House Response
The White House is well aware of how perplexing the new CDC guidelines seem. Yet, its official stance is to ignore — or even cheer on — the confusion. 
President Joe Biden's remarks after the CDC announcement celebrated it as a milestone in the fight against COVID-19. His statement, "Get vaccinated or wear a mask until you do," wrapped the topic up a little too nicely.
The reality is the mask mandates are different everywhere you go. The way the CDC dropped the new guidelines on the American people did nothing to help rebuild trust. Nor does it instill confidence in the agency's ability to continuously handle the pandemic.
The Biden Administration's lackadaisical approach — acting as if the topic is crystal clear, when it is anything but — just adds fuel to the fire.
Copyright 2021, USNewsBreak.com