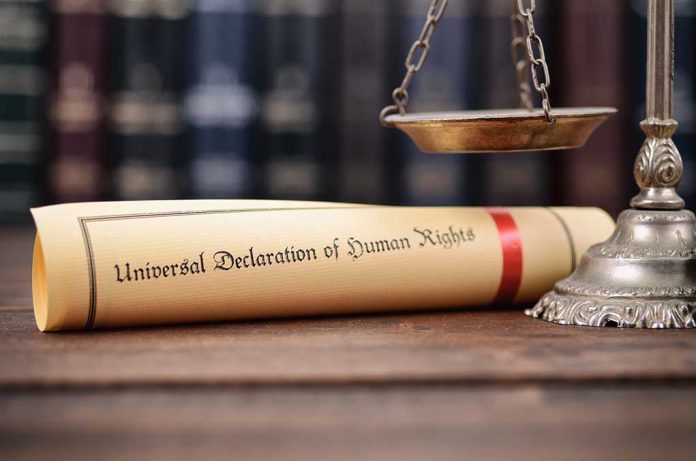 (USNewsBreak.com) – The United States plays a leading role in the protection of fundamental human rights, and has since its inception. In the Declaration of Independence, Thomas Jefferson wrote of the "self-evident truths" that everyone was created equal and endowed with "unalienable rights," including to "life, liberty, and the pursuit of happiness."
The Purpose & Principles of the Universal Declaration of Human Rights
In keeping with this tradition of respect for basic entitlements, the US played a leading role in developing the Universal Declaration of Human Rights (UDHR). Taken up by the United Nations General Assembly on December 10, 1948, the declaration is considered the world's most important document regarding the recognition and protection of fundamental rights and liberties.
The UDHR details every person's fundamental human rights regardless of gender, race, nationality, religion, or other identifier or status. Although it was non-binding, the Declaration subsequently formed the foundation of nine enforceable international human rights treaties.
America's Role in Creating the Universal Declaration of Human Rights
The United States plays a leading role in global affairs, including the promotion of the ideals set forth by UDHR. In fact, then-president Franklin D. Roosevelt's wife Eleanor served as the UDHR drafting committee's chairperson. In that role, she looked to her husband's "Four Freedoms" — freedom of religion, freedom of speech, freedom from want, and freedom from fear.
As a permanent member of the UN Security Council, the US strives to enforce and expand the use of the UDHR worldwide by setting an example in all its affairs, at home and abroad.
The US works bilaterally with other nations to promote improvements to basic human rights within their borders. It also works with allies and global entities like UNICEF to stave off future human rights abuses.
The US has also worked to influence the development of other human rights treaties calling for the elimination of racial discrimination, protection of refugee status, and prohibition of torture.
US support for universal human rights remains as strong today as it did over 70 years ago when the Universal Declaration of Human Rights was first adopted.
Copyright 2021, USNewsBreak.com