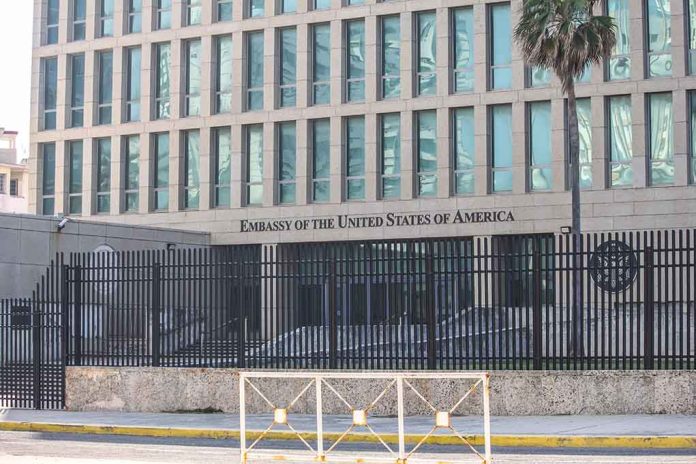 (USNewsBreak.com) – The United States and Cuba have had a strained relationship since Fidel Castro's takeover in 1959, although diplomatic efforts in recent decades have worked to ease tensions. The two countries experienced a setback in 2017 when a series of unexplained illnesses in US Embassy members prompted suspicions of high-tech attacks and led to the White House pulling most of its staff. Now, the US is re-opening consular services, hoping to improve its relationship with the neighboring island and allow immigrants a legal pathway into the country.
The U.S. Embassy in Cuba is reopening visa and consular services, the first time it has done so since a spate of unexplained health incidents among diplomatic staff in 2017 slashed the American presence in Havana. https://t.co/PUPKnsPUtB

— ABC News Politics (@ABCPolitics) January 4, 2023
The New York Post explained that illegal immigration from Cuba has risen, with a 21% increase in border stops between October and December of 2022. Cuban nationals currently represent the second-highest population of border crossers, second only to Mexicans, resulting from political, economic, and energy-related crises that have led the people to desperate measures. While many fly to Nicaragua and attempt to cross into the US on foot, others chance the perilous 90-mile ocean voyage via makeshift boats.
US officials have been working with Cuban leaders for months to re-establish the embassy and get it running once again. Most personnel had left after the waves of alleged attacks had forced them to flee in 2017. The so-called "Havana syndrome" caused officials to experience dizzy spells, headaches, memory loss, and other vague but bizarre symptoms, as The New York Times reported. Because diplomats in China and Russia also noted such attacks, officials suspected some type of microwave device was at play in all three locations, but no evidence of such a weapon has ever surfaced.
Current movement indicates officials are willing to let go of past conflicts and work on improving diplomacy. The US will likely issue a minimum of 20,000 immigrant visas annually as part of the deal, news outlets report. The progress won't affect current tourism restrictions. Currently, Americans can only travel to the island nation to visit family or to pursue humanitarian, journalistic or religious endeavors.
Copyright 2023, USNewsBreak.com