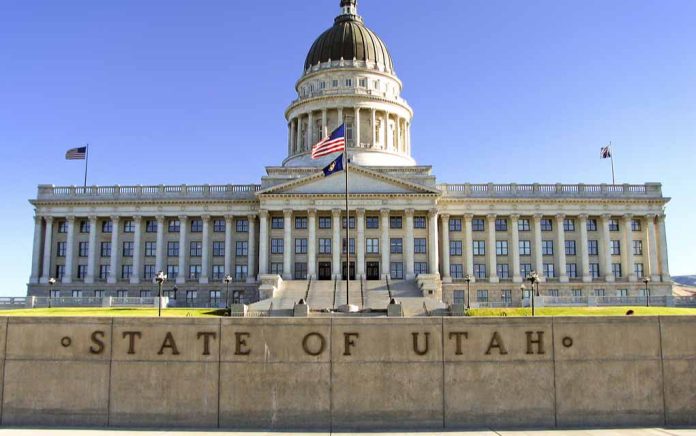 (USNewsBreak.com) – The United States is represented by a red, white, and blue flag that honors the country's history. In addition, each of the 50 states has its own flag that's representative of its story. The symbols and colors all have meaning. Recently the state of Utah decided to go out with the old and in with the new.
In 2019, Utah launched a campaign, More Than Just a Flag, to redesign its emblem and asked its residents to submit their ideas and designs. It received more than 7,000 submissions, which were all reviewed, with a select few posted for public consideration. From there, the state hired professional designers to take all of the comments and come up with five concepts.
On March 2, the Utah legislature voted to approve SB 31, adopting the new design. It went to Governor Spencer Cox's (R) desk, where he signed it into law on Tuesday, March 21.
The new design is colorful and symbolic. It has a blue, white, and red design from top to bottom that honors its residents' love of the country. The white in the middle resembles the mountains. The red dips into a valley, symbolizing the rugged canyons, while the blue represents freedom, tradition, optimism, and the state's wide-open skies. In the middle of the flag is a hexagonal design outlined in gold for unity and strength. A beehive in the center projects a sense of community as well as the state's slogan, "Industry," and a white star just below it represents Utah's statehood, which it gained in 1896.
On March 21, Cox also signed Executive Order 2023-04 mandating that when the "historic" flag (aka the original) is flown, on holidays, for example, it will fly above the new one. Cox also requested an amendment to SB 31 to ensure that when both are flown together for any other reason, the historic one always takes the highest position.
Excited to sign both SB 31 and a new executive order today. Our traditional Utah state flag has been a symbol of faith, diligence and strength to Utahns, and will continue to fly at the state Capitol along with the new state flag of Utah.

Read the https://t.co/iqbp0CinDr… pic.twitter.com/fSZdtx3aRn

— Utah Gov. Spencer J. Cox (@GovCox) March 21, 2023
The new flag will go into effect on March 9, 2024.
Copyright 2023, USNewsBreak.com