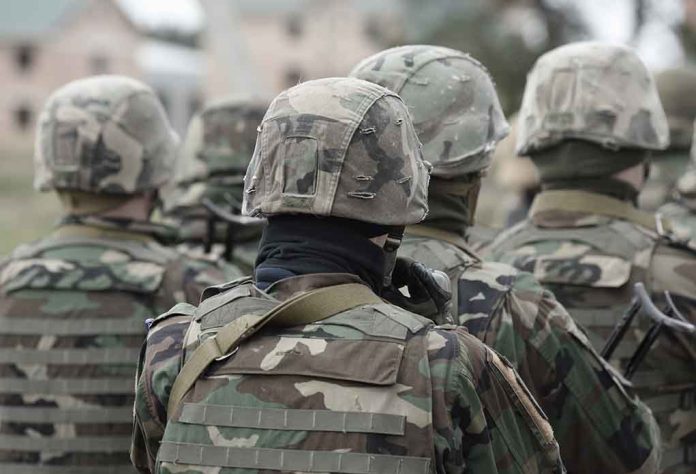 U.S. Soldier DEAD – 2 Others Reported Injured
(USNewsBreak.com) – The Yakima Herald-Republic reported the death of a soldier from the 7th Infantry Division at Joint Base Lewis-McChord on April 25. The accident occurred at the Yakima Training Center in Washington state. Army Private First Class Joseph A. Marquez died of injuries he sustained during a single-vehicle accident.
Soldier killed and two others hurt during an exercise at the Yakima Training Center in central Washington state, Army officials say. https://t.co/JC1AFBXOOt

— NBC News (@NBCNews) April 27, 2022
Three soldiers were completing a training exercise, but the military didn't release details on what happened. The organization also did not state the names of the other two troop members who received treatment at Yakima Valley Memorial Hospital. The two reportedly had minor injuries, and the facility released them.
In a tweet, the 7th Infantry Division provided a press release in which they sent prayers and condolences to the family.
JBLM Soldier Killed in Training Accident at Yakima Training Center. pic.twitter.com/pZN8ApRM6F

— 7thInfantryDivision (@7thID) April 26, 2022
The incident took place at a training center, a satellite installation of Joint Base Lewis-McChord near Selah. Marquez, a Delaware native, was 20 years old and part of the 2-2 Stryker Brigade Combat Team. The New York Post reported he joined in 2021 and served as a motor transport operator. The Post also noted two other recent deaths during military training operations, Army Specialist Joseph M. Meitl Jr. in March and Kyle Mullen in February. Both of those incidents were in California.
Military officials state the incident that took Marquez's life remains under investigation.
Copyright 2022, USNewsBreak.com