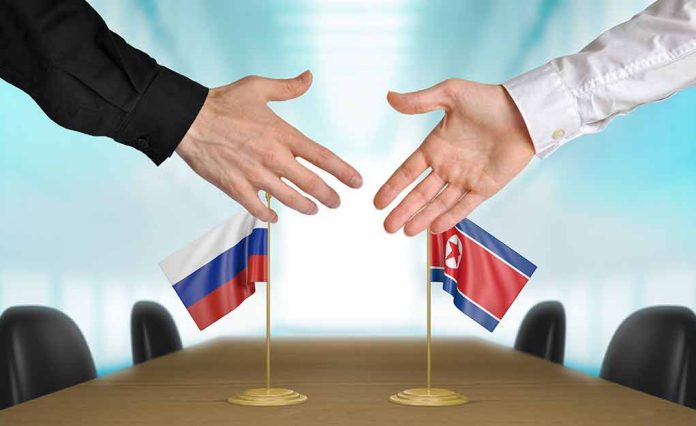 (USNewsBreak.com) – Russia alienated itself from Western countries when it invaded Ukraine more than 18 months ago. In response, European Union and NATO members have rallied in the war-torn country's favor, providing billions of dollars in aid while condemning the Kremlin and President Vladimir Putin. On the other hand, Russia has tried to make do with older equipment and has lost at least tens of thousands of troops. Now, the White House has warned that the country is "actively advancing" its talks with North Korea (DPRK) for a weapons deal.
North Korea-Russia Talks
According to White House intel, North Korea's Kim Jong-un and Putin have been exchanging letters. Russia is allegedly seeking aid from the DPRK. Specifically, it wants artillery ammunition that could give it a leg up on Ukraine and the support it's receiving from Western allies.
But it's not just letters exchanging hands. Sergei Shoigu, Russia's Defense Minister, allegedly visited North Korea in July. Then, more Russian officials visited the nation, which National Security Council spokesman John Kirby said could lead to "high-level discussions […] in coming months," according to CBS News. The agreement wouldn't be one-sided, however. Kim is reportedly seeking advanced technology to use with nuclear-powered submarines, satellites, and food.
Should the two sides reach an agreement, North Korea could provide Russia with weapons in an exchange that would violate "a number of UN Security Council resolutions," according to Kirby. The White House is continuing to monitor the situation while simultaneously warning North Korea not to follow through.
Adding further to the situation, The New York Times recently reported that a meeting could take place between Kim and Putin in Vladivostok, a city on Russia's Pacific Coast.
US Levies Sanctions
On Thursday, August 31, the United States levied sanctions against a Moscow firm and two men, Sergey Kozlov and Jon Jin Yong, who are seemingly supporting the Asian nation's ballistic missile program. The US Treasury Department accuses the men of having "directly supported or helped generate revenue" for organizations in North Korea that have ties to weapons development. The sanctions came one day after the White House gained intel that the two nations' leaders were communicating.
Recently, North Korea has launched several tests, drawing concern from Japan, South Korea, and the US. Providing Russia with the missiles could change the landscape of the war in Ukraine. The White House has previously dissuaded cooperation through its revelation of declassified data, and it likely intended to achieve the same outcome with this recent disclosure.
Copyright 2023, USNewsBreak.com