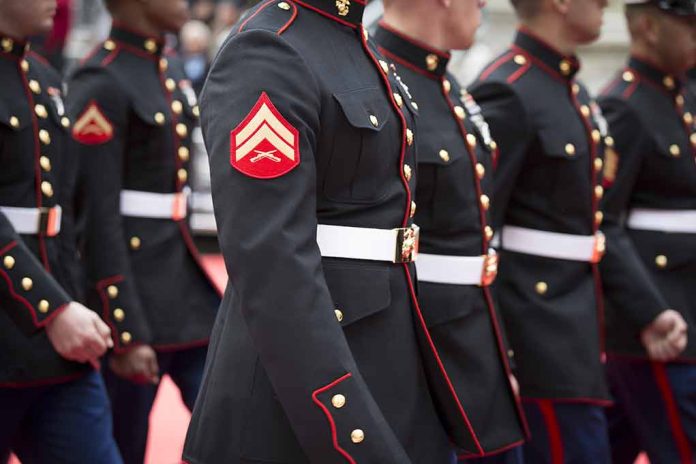 (USNewsBreak.com) – Marine Corps Commandant Gen. David Berger recently retired, leaving open the branch's highest command for the first time since 1859. Typically, Congress would fast-track the most qualified candidate to fill the vacancy, but one Senate member has blocked promotions in the military since February 2023. The one-man roadblock is acting in protest against the Pentagon's decision to keep abortion access open to women who are actively serving their country. Meanwhile, the US Marine Corps must go without a confirmed leader.
A Halt on All Promotions
In March 2023, The New York Times reported Sen. Tommy Tuberville (R-AL) hadn't allowed the promotion of a general or admiral since the Pentagon announced its controversial move. His actions came in response to what the senator viewed as a failure on the military's part to adhere to the new precedent the Supreme Court established in its decision on Dobbs v. Jackson Women's Health Organization. According to Tuberville, the Pentagon is breaking the law by allowing female military members access to abortions while they remain stationed in states that have banned the procedure by assisting them in traveling out of state to jurisdictions allowing the option.
US Secretary of Defense Lloyd Austin argued in a memorandum that women serving in the armed forces often must travel in the course of their duties, leaving many temporarily stationed in states where abortions are illegal. He insisted these personnel need "access to reproductive health care" regardless of state lines because restrictions "interfere with [the military's] ability to recruit, retain, and maintain the readiness of a highly qualified force." The issue, according to the defense secretary, leads to "unusual, extraordinary, hardship, or emergency circumstances."
To remedy the problem, Austin directed his department to allow any female branch member an administrative leave of absence and stipend to travel out of state to obtain reproductive health services.
Putting the Country's Security at Risk?
Tuberville interprets the Pentagon policy decision as an overreach that has stepped on Congress' toes, especially given pre-existing limitations on using taxpayer funds to pay for military employees' abortions. He told The New York Times, "Congress will write the laws — not the secretary of defense."
Between 200 and 300 service members currently sit in promotional limbo as Tuberville continues his demonstration. Sen. Jack Reed (D-RI) slammed his peer during a recent floor speech, claiming the approach was hurting the nation's security. He accused the Alabama conservative of turning military promotions into "toys for political gains."
Fox News reported Gen. Eric Smith, who served as the Marine Corps assistant commandant under Berger, is currently the acting commandant — but the position is not official, and he hasn't yet received an assistant to fill his previous role. It's still unknown how long it will be before a new leader can be confirmed, but Tuberville reportedly spoke to Austin on July 13 about the hold on nominations.
Copyright 2023, USNewsBreak.com