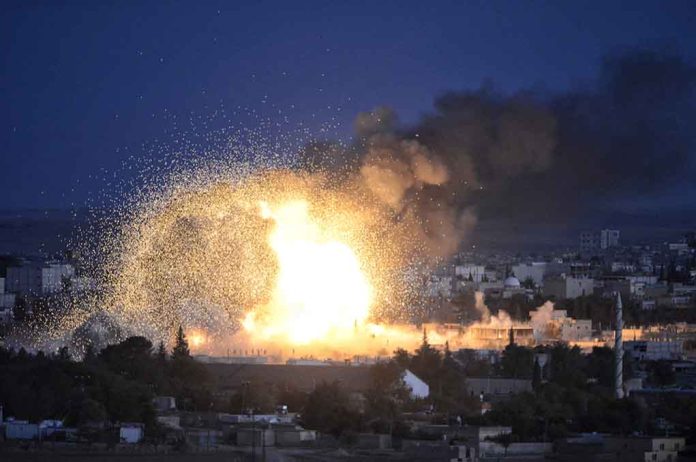 US AIRSTRIKES – Military Action Reported!
(USNewsBreak.com) – On August 23, The US military carried out airstrikes in Deir ez-Zor, Syria. Eight fighter jets pulled off nine attacks on infrastructure targets allegedly linked to Iranian-backed terrorist groups. President Joe Biden personally authorized the use of force under his Article II authority to protect American troops.
Retaliatory Strikes
According to Reuters, White House Spokesman John Kirby confirmed the missions, stating that the targets were all military installations or ammunition depots. "We don't seek escalation," Kirby told reporters. The strike reportedly came as a response to hostile attacks from groups connected to the Islamic Revolutionary Guard Corps.
Biden mulled over his options for a few days after drones attacked a remote outpost near the borders of Syria, Iraq, and Jordan. Two of the unmanned vehicles came dangerously close to causing harm at the base at Tanf. US troops intercepted one, and the other exploded on its own inside the nearby encampment of regional forces. While the attempt caused no damage, the intent to harm US troops and their allies warranted a swift response.
According to a US Central Command statement from Gen. Joe Buccino, "Today's strikes were necessary to protect and defend US personnel." He called the attack a "proportionate, deliberate action intended to limit the risk of escalation and minimize the risk of casualties."
Buccino went on to emphasize that the United States is not in any way looking for a conflict. The retaliation was "necessary" to defend American citizens, he said. The general made it clear that the US would protect its interests.
According to Deir Ezzor 24, a Syrian watchdog group, 10 militia and three locals died in the strikes. Some militia were foreigners that may have been from the Afghanistan-based Fatemiyoun Division Shiite militia fighters in league with Iranian extremists.
Iran Denies the Accusations
On Wednesday, Iranian Foreign Ministry Spokesperson Nasser Kanaani said the strikes were a violation of Syria's right to exist peacefully within its borders, Reuters reported. He denied any connection between the sites the US warplanes decimated and the Islamic Republic.
The US has about 900 troops on the ground in Syria in the ongoing struggle against the Islamic State. Iranian militias gained ground in the volatile country during its civil war when they joined forces with President Bashar al-Assad.
Strikes against hostile targets with suspected ties to Iran are nothing new in the region. Americans hit operational and weapons facilities in Iraq and Syria last June.
Notably, two separate US military locations came under rocket fire shortly after the US's strikes on facilities in Syria. Three service members reportedly sustained minor injuries.
Copyright 2022, USNewsBreak.com