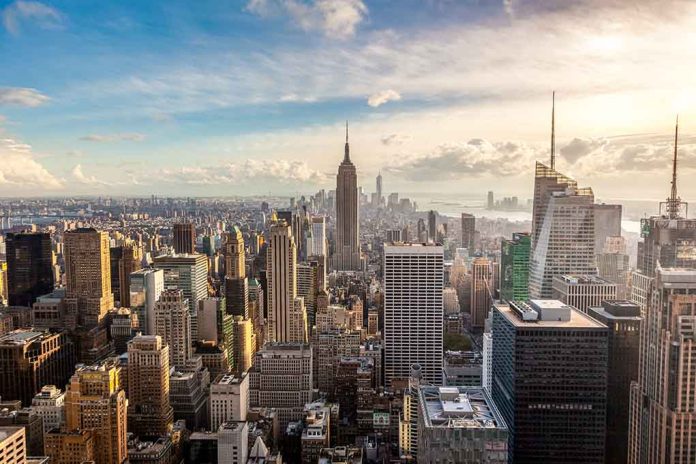 (USNewsBreak.com) – Over the past few years, there have been concerns about China operating its own police stations in the United States. The foreign country allegedly established the facilities to stalk dissidents and pressure Chinese nationals to return home. In November, FBI Director Christopher Wray said he was "very concerned" by their presence, according to Reuters. Now, the Department of Justice (DOJ) is taking action against at least one of these locations.
On Monday, April 17, the DOJ issued a news release announcing it had arrested two men they believe opened and ran "an illegal overseas police station." Chen Jinping, 59, and "Harry" Lu Jianwang, 61, stand accused of operating a location in Manhattan that authorities say is an extension of the People's Republic of China's (PRC) Ministry of Public Security (MPS).
BREAKING: The U.S. arrested two people for allegedly running a secret Chinese police outpost in New York City. https://t.co/iO2OaHYKCF

— CBS News (@CBSNews) April 17, 2023
A 30-page affidavit provides more insight into the alleged operations, including the fact that the two men set up the agency in January 2022 without notifying the United States attorney general, which is required by federal law. The FBI reportedly found evidence of obstruction when they conducted a search of the police station and interviewed Chen and Lu, who both admitted to deleting communications with an MPS official. They did so after learning about the agency's investigation.
They are also accused of "assist[ing] the PRC government's repressive activities on U.S. soil." These actions include protesting against members of a religious affiliation they don't allow in China, continuously harassing and threatening a victim and their family members so the individual would return to China. The two also worked to locate dissidents.
The acting assistant director of the FBI's Counterintelligence Division, Kurt Ronnow, said this is just another example of China's efforts to "bend people to their will."
China has denied the existence of police stations, saying it doesn't interfere in the internal affairs of other countries. The two men face up to 25 years in prison, each, if convicted.
Copyright 2023, USNewsBreak.com