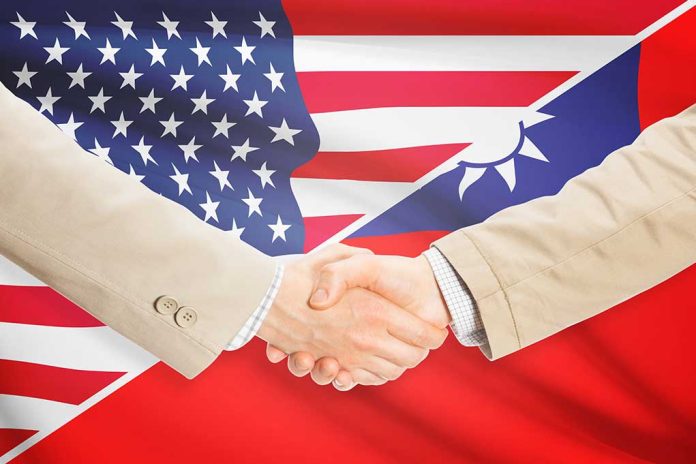 Controversial MEETINGS Announced – The U.S. Is Doing It!
(USNewsBreak.com) – The US's relationship with Taiwan is complicated. Although America doesn't formally recognize the island as an independent nation, it does provide the ally with weapons and military support. Now, the relationship appears to be growing even further.
On August 17, the Office of the US Trade Representative announced the Taipei Economic and Cultural Representative Office in the United States (TECRO) and American Institute in Taiwan (AIT) would begin to negotiate a bilateral trade agreement. The Taiwan Initiative on 21st-Century Trade was originally announced in June, but there's now a blueprint to get the job done. The plan includes negotiations on digital commodities, anti-corruption measures, labor standards, and other important measures.
The negotiating mandate sets out the broad objectives shared by the two sides for the upcoming trade negotiations. It is expected that the first round of negotiations will take place early this fall. https://t.co/I1iaMd4pNS

— United States Trade Representative (@USTradeRep) August 18, 2022
The announcement comes after a visit by Speaker of the House Nancy Pelosi (D-CA) to Taipei and increased aggression by China. The communist government is furious with the US over its decisions to deepen ties with Taiwan and has even threatened war. America has not allowed the rhetoric to dissuade its policies.
On Wednesday, Deputy US Trade Representative Sarah Bianchi said America plans to "deepen [its] trade and investment relationship and advance mutual trade priorities based on shared values" with Taiwan, according to a report from the Wall Street Journal. In the end, the hope is that the two nations will create a "more prosperous and resilient 21st-century economy."
What do you think about the agreement?
Copyright 2022, USNewsBreak.com