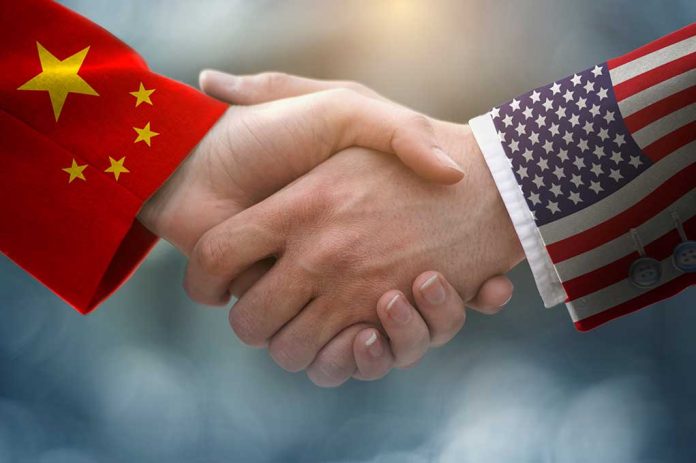 China Reaches MAJOR Deal With US – But Will They Keep Their End of the Bargain?
(USNewsBreak.com) – The clock was ticking for hundreds of Chinese companies after the United States threatened to remove them from the New York Stock Exchange (NYSE). But in a landmark deal, China agreed to allow the US to check its business audits. The move is a significant step forward, but some concerns remain as to whether Beijing will follow through.
Delisting Warning
In 2020, Congress made a major move to hold Chinese companies publicly trading on the NTSE accountable for any wrongdoings. To keep investors safe and ensure compliance, the Securities and Exchange Commission (SEC) must be able to review audits. Beijing has been hesitant to allow US officials into the country to do so. Leaders claimed it would risk the national security of the Asian nation.
But US lawmakers passed the Holding Foreign Companies Accountable Act, which mandated the SEC to require audits without allowing an exception for Chinese businesses. Once the agency implemented the new law, it began warning corporations in China they would face delisting if they failed to comply.
Looking Ahead
According to a report from Bloomberg, the August 26 preliminary agreement between Washington and Beijing will allow the oversight agency, the Public Company Accounting Oversight Board (PCAOB), to visit Hong Kong and conduct audits. Officials will have full access to all accounting documentation. Neither the businesses nor government authorities can redact information from the reports. The agency can also share the data with the SEC.
In addition, the PCAOB will have the right to conduct interviews with accounting firm staff who are under investigation and exercise complete discretion over which companies it wishes to inspect. The agency has already alerted the first round with plans to be in China in September to begin the reviews.
Potential Issues and Benefits
SEC Chair, Gary Gensler, stopped short of suggesting that this agreement was a complete victory in an interview on Bloomberg Television, pointing out that China has yet to prove whether or not it will make good on its promises. He said the proof of Beijing's cooperation is necessary to consider this a done deal.
The ability to conduct such reviews is essential to ensuring the market is fair and offering investors security. Trusting in the numbers a company puts forth is the backbone of the NYSE. If the figures aren't accurate, the discrepancies create problems that can impact everyone. Verifying that the reporting out of China is precise will validify the country's businesses, thus increasing investor confidence.
Do you think this is a viable solution, or will Beijing back out on its end of the deal? Could this just be a delay to the evitable delisting of Chinese businesses?
Copyright 2022, USNewsBreak.com