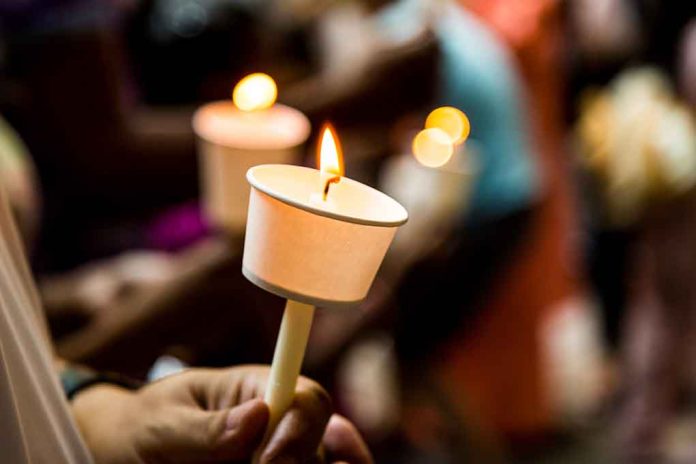 University Remembers Students Killed in Idaho
(USNewsBreak.com) – The college town of Moscow, Idaho is a tight community on the Washington state border with little crime and not a lot of excitement — typically. All of that changed, however, when four young roommates became victims of a gruesome quadruple homicide. Residents, students, and police, are still struggling to understand what happened. However, many people came together for an unfamiliar scene in the town of around 25,000: a candlelight vigil for the lost.
University of Idaho holds a vigil for students as investigators continue to gather evidence from the stabbings and process tips, but no suspect has yet been named https://t.co/rcUro7NdcX

— The Wall Street Journal (@WSJ) December 1, 2022
On November 30, a crowd of mourners gathered at a local indoor football stadium to honor the victims of the deadly slaying more than two weeks earlier. Madison Mogen, 21; Kaylee Goncalves, 21; Ethan Chapin, 20; and Xana Kernodle, 20, died in a residence just off-campus from the University of Idaho. Friends, relatives, and teachers remembered the slain students, offering touching tributes with musical acts to start and finish the evening.
Moscow police placed additional patrols at the vigil for increased security. The department has come under fire for its handling of the case, which still has more questions than answers. While they originally believed the students were targeted specifically, statements on Wednesday walked that theory back, according to the Wall Street Journal. Early in the investigation, cops said they believed there was no imminent threat to the public, another assumption they backpedaled on days later.
Police still haven't provided solid answers regarding the case. However, they did reveal on December 2 that they believe a sixth person was listed as a tenant at the house where the attack occurred, along with Goncalves, Kernodle, Mogen, and others. They said they don't think the person in question is linked to the deaths.
Copyright 2022, USNewsBreak.com