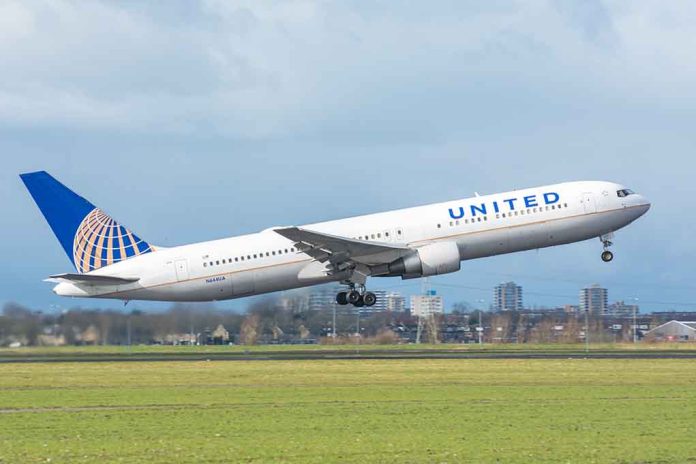 United Airlines Makes BIG Investment – You Won't Believe What It Is!
(USNewsBreak.com) – In a September 8 release, United Airlines revealed it was investigating in 200 electric vertical take-off and landing vehicles (eVTOLs) from Eve Air Mobility. The company also secured an option to buy 200 additional flying taxis from the supplier. United President Michael Leskinen said the company is making history. The transaction is part of its mission to work toward net zero carbon emissions by 2050, and Leskinen expressed hope that this arrangement is a catalyst to the ultimate goal of sustainability within the industry.
United Airlines is betting that electric air taxis will soon be speeding around U.S. cities. https://t.co/da6bxnJatZ

— CBS News (@CBSNews) September 8, 2022
United Airlines is investing $15 million on the air taxis, which can each seat four people, and delivery should begin in 2026. The idea behind eVOTLs is to change the experience for people traveling to the airport. These crafts would allow commuters to bypass congested roadways and make the trip easier and less stressful. The setup could also open doors to a quicker transportation option for cargo.
Current you: drive to the airport
2026 you: fly to the airport

Up to 400 flying taxis from @EveAirMobility could join our fleet as early as 2026, revolutionizing the commuter experience in cities around the world. https://t.co/OI1UCjswCP pic.twitter.com/cjF7dxfC9W

— United Airlines (@united) September 8, 2022
United's intentions are to help work on the future of this emerging technology in partnership with Eve Air Mobility. Both companies wish to see growth and expansion within the urban air mobility industry.
United already bought 100 eVOTLs from Archer Aviation in August, putting down a $10 million prepayment. This agreement, in addition to the one with Eve, means the airline could potentially end up with 500 air taxis ready to service customers.
Copyright 2022, USNewsBreak.com