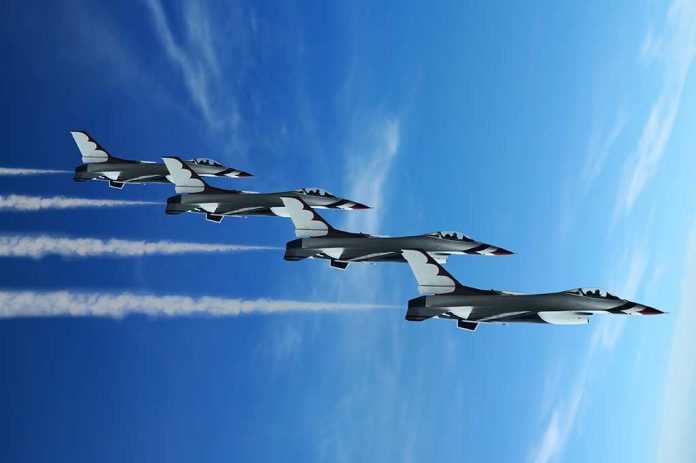 (USNewsBreak.com) – The Russian-Ukraine war has lasted over a year, and there's still no end in sight. Over the past 14 months, the United States and its Western allies have contributed billions of dollars in aid to the war-torn country. One thing the US has held off on sending, though, has been fighter jets. That hasn't stopped Ukrainian officials from continuing to ask.
On Wednesday, April 12, Prime Minister Denys Shmyhal met with Defense Secretary Lloyd Austin and asked that the US provide Ukraine with more weapons to help them win the war. According to The Hill, while he was confident they would win, Shmyhal said the country "needs intensive military support," and listed out a few areas where it required more assistance. Included in the list were ammunition, long-range missiles, and air defense systems to fight off Russia's aerial attacks.
Ukrainian prime minister directly asks Pentagon chief for fighter jets https://t.co/OylGzF4FMF pic.twitter.com/q0RmuFJKDw

— The Hill (@thehill) April 13, 2023
Fighter jets are not a new request. In fact, Ukraine has been asking the West to send the planes virtually since the conflict's beginning. In the past few months, Poland and Slovakia have agreed to send over older jets, MiG-29s, but the US isn't budging on refusing to send F-15 and F-16s.
Part of the reason for the refusal is that the Ukrainian military doesn't know how to operate these planes. Training on the jets takes several months because of the sheer knowledge it requires to learn the technology within. The MiG-29 fighter jet is already within their scope of knowledge, and the Ukrainian military has operated them for decades, so it makes sense to take advantage of Poland and Slovakia's offerings, which they can use immediately.
According to Shmyhal, "Ukraine is initiating the building of a new, so-called fighter jet coalition" and has asked the US to join by providing the country with the planes they've requested. Austin did not address the issue of these jets directly, but he assured the Ukrainian official that the US is committed as ever to helping them.
Copyright 2023, USNewsBreak.com