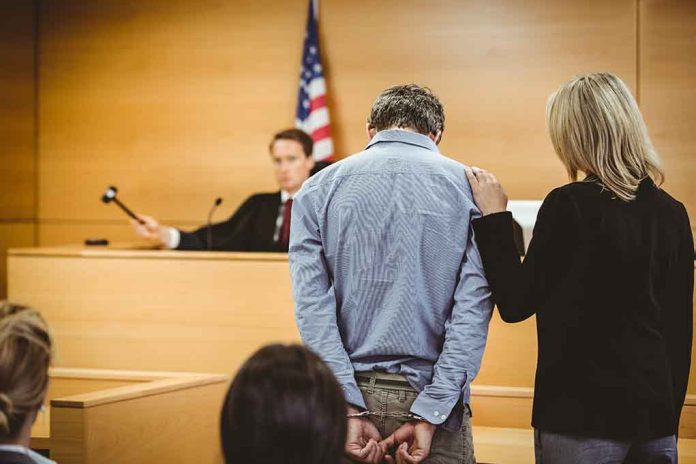 Kidnapping PLOT – Suspects Head Back To Trial!
(USNewsBreak.com) – Two men who already faced trial once in the alleged plot to kidnap Michigan Governor Gretchen Whitmer are heading back to court this week. Prosecutors in Grand Rapids will try to prove that Adam Fox and Barry Croft attempted to orchestrate heinous crimes that involved kidnapping Whitmer. A mistrial thwarted the first attempt to convict the accused after a jury couldn't come to a unanimous decision. Two other men tried with Fox and Croft were acquitted of all charges.
A New Trial
Jury selection for the new trial involving Fox and Croft took place on Tuesday, August 9. According to a report from The Detroit Free Press, U.S. District Judge Robert Jonker asked jurors during the selection process specifically whether they felt a distrust of the government could impact their ability to be fair during the trial. This was reportedly related to the delicate nature of the case and the contentious issues surrounding it — particularly the FBI's investigation into the matter and Whitmer's pandemic response.
A Tough Road for Prosecutors
Former US Attorney Barbara McQuaid said the prosecution has to evaluate their approach and consider where to improve their argument, but they're still dedicated to proving their case, according to the Wall Street Journal. Two men who pleaded guilty to the crime appeared as witnesses against the accused, and still, the decision ended in a hung jury, with two other alleged conspirators freed completely. They could now appear for the defense to help deny the conspiracy charge.
While the government might seem to have an advantage in only having to prove a conspiracy of two, allowing for a far less complicated presentation, the defendants' counsel has the entirety of the prosecution's case already laid out. They had months to seek out and exploit any inconsistencies.
The First Time Around
In the previous case, not all of the jurors could decide the fate of Fox and Croft beyond a reasonable doubt, which put them in legal limbo. Without an acquittal, double jeopardy doesn't apply. The US attorney can and did refile the charges in hopes of a better result. To have a chance of winning, however, lawyers for the state will need to do a much better job of explaining some of the key elements of the case.
The defense argued that undercover operatives influenced the direction of any plot the men may have devised. The essence of their case was that the FBI planned the whole thing by helping turn the rhetoric of politics into an actual instance of potential domestic terrorism.
At least some jurors bought it for the men facing a new trial, and all of them voted to acquit the other pair. Will the defense use the same argument in this trial and come out on top, or do you think the jury will ultimately convict Fox and Croft?
Copyright 2022, USNewsBreak.com