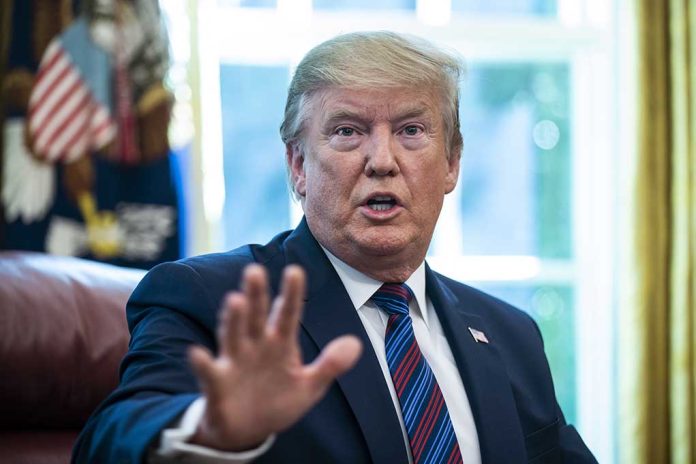 (USNewsBreak.com) – In November of last year, former President Donald Trump announced he was pursuing the White House once again. There was a lot of speculation about who might throw their hat in the ring alongside him, and so far, a few candidates have surfaced. There's also the lingering question about whether or not Florida Governor Ron DeSantis (R) will run. Over the past few months, Trump has taken aim at the lawmaker, calling him names and listing all of the reasons why he wouldn't do well in the presidential role. In a recent speech, the former commander in chief put DeSantis in his crosshairs yet again.
On Monday, March 13, Trump made a campaign stop in Davenport, Iowa, to speak with the populace about educational policies. He made DeSantis a focus of his speech, calling him a "disciple" of former House Speaker Paul Ryan and referring to him as "Ron DeSanctus."
Trump goes after DeSantis in first Iowa speech of 2024 campaign https://t.co/2NE2tg1i0F pic.twitter.com/1pqtjNphr9

— The Hill (@thehill) March 14, 2023
Trump also compared the Florida governor to Senator Mitt Romney (R-UT), with whom he has had bad blood for years. Romney has consistently called Trump out for his behavior, going so far as to say, "dishonesty is [his] hallmark," adding that the former president shows off with "absurd third grade theatrics," according to People Magazine.
While Trump still has a lot of pull in the Republican Party and with voters, it seems some support — at least in Iowa — may be waning. According to a recent poll, the number of people who responded that they would "definitely" vote for him has dropped by 20%. Right now, it seems he's on par with DeSantis, only holding about a 5% higher favorability margin over the Florida leader.
Trump isn't the only contender to speak in Iowa, which typically holds the first primary of the election year. DeSantis had visited the week prior, and former South Carolina Governor and US Ambassador Nikki Haley went there on February 20. Entrepreneur Vivek Ramaswamy has also been to the Hawkeye State. Potential candidates who have yet to announce a run but spoke in Iowa include former Vice President Mike Pence and Senator Tim Scott (R-SC).
Copyright 2023, USNewsBreak.com