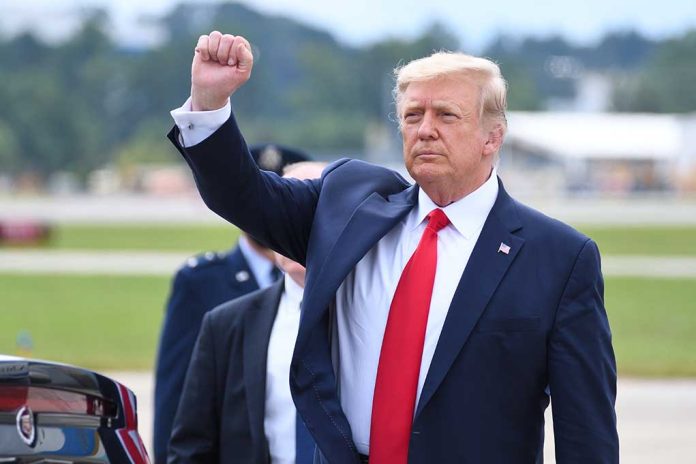 (USNewsBreak.com) – Former President Donald Trump announced his intention to run for president again last November after the midterm elections. In the months since, he has faced intense legal challenges that culminated in him being charged with 34 counts of falsifying business records, all class E felonies. His indictment has led to questions as to whether he'll still run in the 2024 election.
On Tuesday, April 11, Trump appeared on Fox News show "Tucker Carlson Tonight" to speak with the host about the charges against him and his intentions moving forward. At one point, Carlson asked the former president if there was anything that would lead to him dropping out of the race. Trump was quick to answer, "No, I'd never drop out," adding that "it's not [his] thing."
Trump says he wouldn't drop out of 2024 race if convicted: "It's not my thing" https://t.co/AhdElK52L6 pic.twitter.com/Nt0q2IUDrg

— The Hill (@thehill) April 12, 2023
Carlson also broached the possibility of the case going to trial during the middle of the presidential campaign and what would happen if Trump were convicted. Theoretically, if he were convicted, nothing in the Constitution would keep him from winning or taking office. Depending on his sentence, however, the logistics of campaigning and carrying out his term would be spotty, but that would be a bridge to cross only if he ended up doing time. Per Kate Shaw, a Cardozo School of Law professor and legal analyst for ABC News, that's more of a "practical problem, not a legal one."
In the meantime, Trump has pleaded not guilty to all of the charges levied against him. The felonies stemmed from alleged hush-money payments to Stormy Daniel to cover up reports of an extramarital affair, for one. However, according to prosecutors, the former president "orchestrated a scheme" involving three different payments to three different people, KTVQ reported.
During the interview with Carlson, Trump also said he couldn't see President Joe Biden running again, saying after watching the commander in chief answer questions this past weekend, "There's something wrong … I don't think he can."
Copyright 2023, USNewsBreak.com