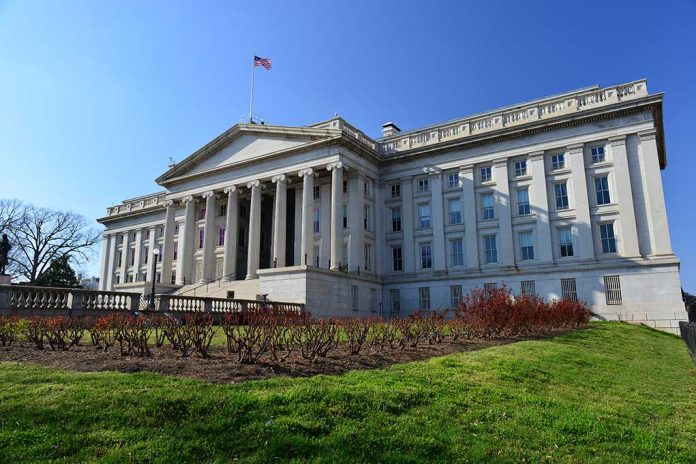 (USNewsBreak.com) – Cartel Jalisco Nueva Generación (CJNG), better known as the Jalisco New Generation cartel in the US, has developed a reputation for its drug trafficking exploits along the border, especially in cases involving fentanyl. The CJNG has apparently found yet another way to exploit Americans, prompting the US Treasury to announce new sanctions against CJNG operatives and their associates.
On Thursday, April 27, the Treasury's Office of Foreign Asset Control (OFAC) announced the sanctions against Eduardo Pardo Espino, along with six other individuals and 19 Mexican companies, for their involvement in a timeshare fraud. According to Treasury Undersecretary for Terrorism and Financial Intelligence Brian Nelson, the scheme "often targets elder US citizens" and has become a significant revenue stream supporting CJNG's criminal empire.
The U.S. Treasury Department announced sanctions against members or associates of the Jalisco New Generation drug cartel who apparently went into a side business of timeshare fraud that allegedly targeted elderly Americans. https://t.co/uuBGtRAbyf

— CBS News (@CBSNews) April 28, 2023
The cartel has primarily centered its operation around the beach-side resort of Puerto Vallarta, Jalisco, Mexico. Ryan Donner, a real estate broker in the city, described the scam to CBS News as very sophisticated. Typically, a cartel representative contacts individuals seeking to sell their timeshare properties, often by email. The scammers tell the seller they have a buyer lined up but explain the seller must pay taxes and fees before completing the deal. Criminals often use high-pressure sales techniques and create urgency to close the deal, according to FBI sources. Once sellers send the money, the alleged deal and the business contact evaporate.
Donner warned potential sellers that any agent asking for money to complete a sale raises a red flag. "That's not how companies usually work," he said. Still, the broker admitted the contracts and alleged tax documents that the CJNG scammers used looked official and convincing, making it easy for potential sellers to fall prey to the scam.
The OFAC previously issued sanctions on March 2 against eight companies associated with the CJNG timeshare fraud scam. The individuals within CJNG primarily responsible for running the operation in and around Puerto Vallarta include Pardo, Carlos Andres "La Firma" Rivera Varela, Francisco Javier "La Gallina" Gudino Haro, and Julio Cesar "El Tarjetas" Montero Pinzon.
The US blocks sanctioned companies or individuals from accessing assets in the US or doing business with companies or individuals in the US under penalties imposed by the Kingpin Act.
Copyright 2023, USNewsBreak.com