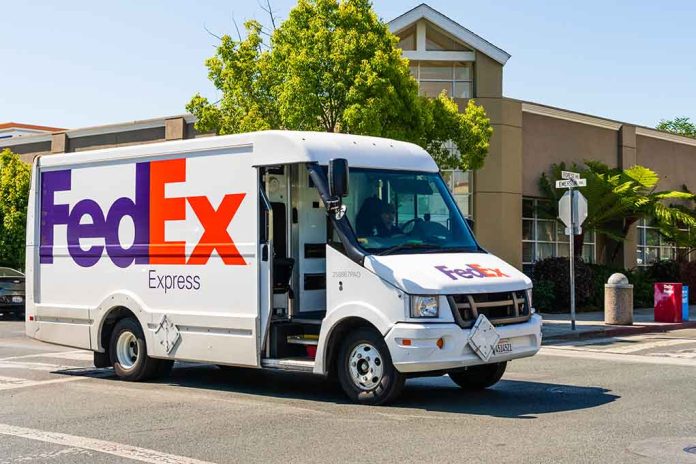 (USNewsBreak.com) – The Wall Street Journal reports FedEx Corp, Lyft Inc, and Uber Technologies Inc are among several companies that, due to the high gas prices, have increased customer fees to add fuel surcharges. These companies also rely on contractors to make deliveries or transport customers, and the drivers say the surcharges aren't adequate. These workers want help so that they can afford to do their jobs.
Strained Contractors
According to AAA, the average price of a tank of regular unleaded gasoline was $4.098 on April 12. This rate is slightly down from a month ago, when the average was $4.326. However, gas prices over the $4 mark are considerably higher than a year ago, when the highs were at $2.863.
Many drivers can't afford to keep moving, especially when the company charges the customer a fee for fuel. None of that extra money goes back to the drivers, which is the situation at FedEx.
The Wall Street Journal reported FedEx ground contractors created an online petition to request help from the company. They want some type of compensation that will offset their fuel costs and prevent them from going out of business.
What will FedEx do if all its ground contractors are out of business? The loss would likely cost the company much more money than finding a better solution to high gas prices now.
Drivers Need More Help
Uber and Lyft charge customers using the service a fuel surcharge, which goes directly to the driver. Both implemented the fees in March. Even so, the added rate doesn't factor in the length of the trip. It's a flat fee. Many drivers say it isn't enough to compensate for the higher gas prices.
Some drivers say they'll only take shorter trips because longer drives simply don't have enough of a surcharge to make accepting them worth it.
A Different Route
DoorDash announced back in March that they were taking a different approach, which doesn't pass the costs onto the customer for the higher fuel costs and offers the drivers money back to ease their expenses. The rewards program for drivers allows them to earn 10% cash back on gas fill-ups and weekly gas bonuses.
The cash back rewards work when a driver uses the DasherDirect prepaid Visa card to fill up. The weekly bonus allows drivers to earn extra money based on how much they work. The company plans to keep the program in place at least through April, with the potential for extending it.
Everyone is suffering from the increase in fuel costs, but will this challenge lead to a larger trend of people quitting or refusing jobs? It appears for FedEx, Uber, and Lyft that their mitigation plans aren't successful. Could they introduce a program like DoorDash's to help reduce the burden on workers?
Copyright 2022, USNewsBreak.com