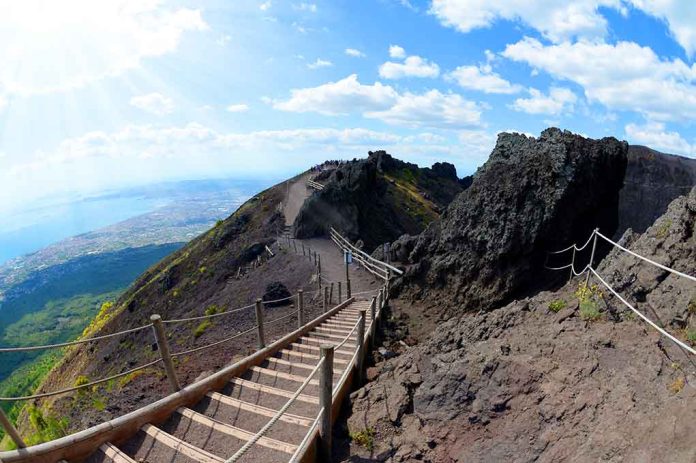 Tourist Makes BIG Mistake – Regrets It Instantly!
(USNewsBreak.com) – Mount Vesuvius, near Naples, Italy, is an active volcano known for the part it played in the destruction of Pompeii. The popular tourist destination caught the attention of an unnamed 23-year-old American man who trespassed for a photo op. But after dropping his phone and trying to get it back, he fell into the crater. Luckily for him, park officials saw what happened and were able to retrieve him.
American tourist falls into Mount Vesuvius, an active volcano in Italy, after trespassing to take a selfie, officials say. https://t.co/RmrK4h0JAt

— ABC News (@ABC) July 13, 2022
The man was in a group of people from America, Great Britain, and Austria when they decided to take an unauthorized path to the top of the volcano. They went to an area where the park does not allow visitor access and which lacked the safety fencing the park installs in tourist spots.
Guides saw people in the restricted area and went to remove them. As they moved toward the interlopers, they saw the man fall into the crater and rushed to rescue him and provide first aid. Luckily, he wasn't seriously injured by the fall.
According to ABC News, officials from the Carabinieri of the Forestry Department of the Park of Vesuvius said they suspect the visitors decided to take an unauthorized route because tickets were sold out. Carabinieri took all the violators into custody, charging them with trespassing on public land.
This harrowing story serves as a reminder. Always stay on authorized paths while hiking in potentially dangerous areas — and perhaps save the selfie for later!
Copyright 2022, USNewsBreak.com