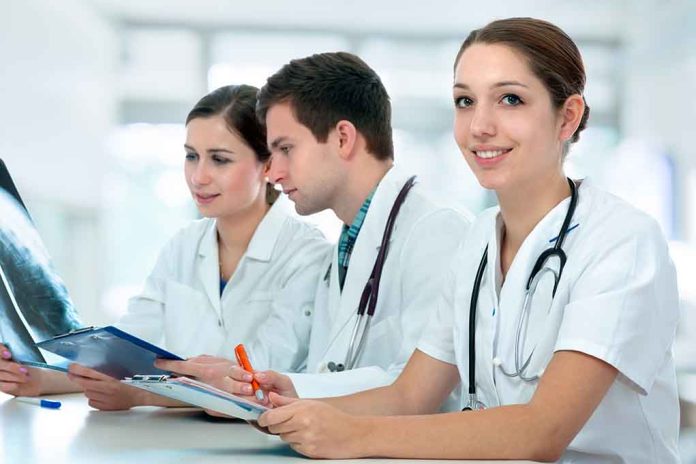 (USNewsBreak.com) – When a person visits a hospital or doctor's office, they expect the medical staff to have undergone the training necessary to do their jobs. However, a recent investigation in Florida led to the discovery that several thousand individuals allegedly obtained nursing credentials after they paid for fake nursing degrees in place of attending college.
On January 23, federal prosecutors with the US Attorney's Office for the Southern District of Florida announced the arrest of 25 people on suspicion of selling fake diplomas and transcripts for between $10,000 to $15,000 each. These diplomas came from three schools: Sacred Heart International Institute, Siena College, and Palm Beach School of Nursing, all of which have closed down.
Thousands of practicing nurses in the U.S. could potentially be working with bogus academic credentials after federal officials uncovered an alleged scheme at three South Florida nursing schools. https://t.co/coVEtxI08F

— CBS News (@CBSNews) January 27, 2023
The degrees, which were sold between 2016 and 2021, allowed their purchasers to sit for the national nursing board exam and then secure positions, such as registered nurse (RN) and licensed practical nurse (LPN), which they might not have been qualified to take. The New York Times reported that of the 7,600 who bought degrees, 37% passed the exam. From there, they secured positions in hospitals, nursing facilities, and other medical settings in several states, including Georgia, Ohio, Maryland, New York, and New Jersey.
The defendants in the case, code-named Operation Nightingale, have been charged with conspiracy to commit wire fraud and wire fraud and face up to 20 years in prison if they're convicted. They're not the only ones who stand to face penalties.
Authorities notified the National Council of State Boards of Nursing of the names of the individuals who purchased the fake degrees. The council released a statement that it is working with state regulators to investigate the cases, and individuals involved may face various penalties — including loss of license — if the charges prove true.
According to NYT, the special agent in charge of the investigation, Omar Pérez Aybar, said there has been no discovery of "patient harm at the hand of these individuals."
Copyright 2023, USNewsBreak.com