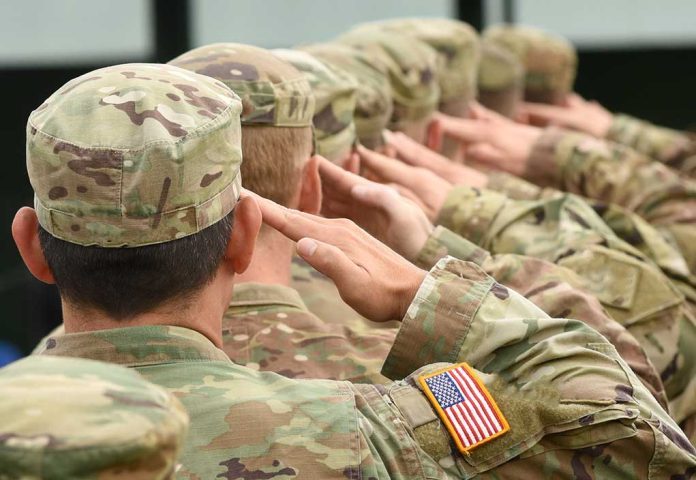 U.S. Soldiers Could Be REMOVED – Sad Circumstances Revealed
(USNewsBreak.com) – The US Department of Defense has made it clear that all service members must get the COVID-19 series of vaccinations. At the end of 2021, 98% of active-duty members had completed the requirement. Pentagon Press Secretary John F. Kirby clarified on December 21, 2021 that the orders also apply to the National Guard. The deadline for Army Guardsmen is the end of June, and thousands of members may face dismissal for not abiding by the order.
The Numbers Are Bleak
When Defense Secretary Lloyd Austin made the order for vaccination for the military, each branch got a deadline. The National Guard had the longest amount of time to ensure compliance due to troops being largely dispersed around the country. Still, the branch has the lowest level of vaccinated soldiers.
The Associated Press reported this week that about 13% of Army National Guard members still have not been vaccinated. That figure amounts to about 40,000 servicemen and women who may not make the June 30 deadline. About 14,000 soldiers have refused and will face reprimand.
Military officials are working to get the remaining members vaccinated in time. Lt. Gen. Jon Jensen said the Guard is working to make vaccination as accessible as possible for soldiers. Officials are providing support and pushing for complete adherence to the order or for exemption approvals.
Some states held events to draw in members for vaccination. Others worked to touch base with unvaccinated individuals and provided information about the shots and the mandated order. Some states had special programs to encourage inoculation and combat misinformation.
Concern Over the Numbers
Jensen explained the number of actual vaccinated members is still unclear. It can take time for paperwork to get to the right place. Some members may be waiting until the last minute to get the shots. Some unvaccinated numbers are not active members yet, and they don't have to get the vaccination until they report for basic training, AP reported.
Still, the Lt. Gen. admitted seeing 40,000 soldiers who potentially will not meet requirements is alarming. The official said the number is significant and will impact the Guard's ability to deploy when needed.
What Happens Next?
If members don't receive the COVID-19 shot, they will no longer be eligible to receive federal pay or participate in missions. But there is a catch. AP also pointed out that each state pays members for service, so as long as a soldier complies with the vaccination requirements in the state in which they serve, they can still get paychecks from state funds.
As it stands, any Guard member who does not meet vaccination requirements on June 30 could end up losing their job.
Copyright 2022, USNewsBreak.com