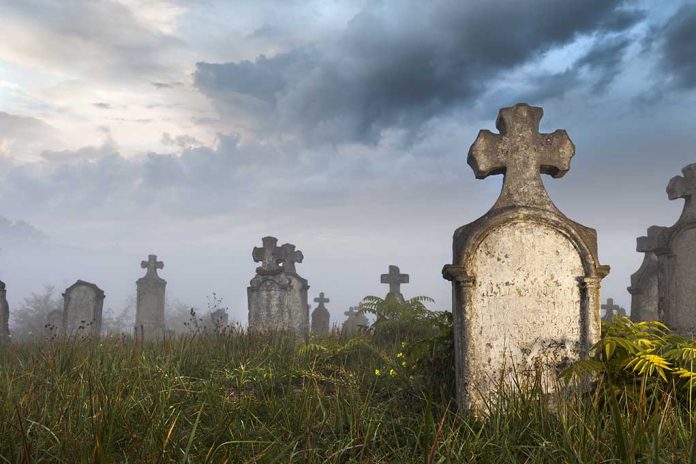 (USNewsBreak.com) – An island off the Llyn Peninsula in Britain is home to a tale that would rival any modern horror story. While it is mainly a place for cattle and sheep to graze today, its history reveals the island is home to tens of thousands of people.
Bardsey, or Ynys Enlli in Welsh, has only 0.7 square miles of land, but underneath the surface lies an estimated 20,000 bodies. In the Middle Ages, the island was a sacred pillar. The story goes that people believed dying on the land there would allow a person to go straight to the afterlife without purgatory. People also thought it gave the soul a get out of hell free card, sparing them from eternal damnation.
Reports say that thousands made the trip here. Some were dying. People even brought already dead loved ones to bury with the idea that one would reap the perks as long as their body was on the land. As more and more people braved the treacherous journey to Bardsey, it gained the nickname Island of 20,000 saints.
The Welsh island where so many are buried bones would stick up from the ground. Called Bardsey in English https://t.co/XVRYQiCxHI

— Archduke Suitcase O'Booze (@LewDai) October 30, 2021
Because there was so little land, the bodies began creating a problem. Every space seemed to fill with bones, and as people dug new graves, they uncovered old ones. Bones stuck out all over the place, and there were so many that by the 1850s, people here began using them to make fences.
Thankfully, people no longer flock here to bury the dead. Today, Bardsey is a tourist attraction where people can see the ruins of a 13th-century abbey and enjoy the nature reserve — but beneath the surface remains the bones of those who made this their final resting place long ago.
Copyright 2021, USNewsBreak.com