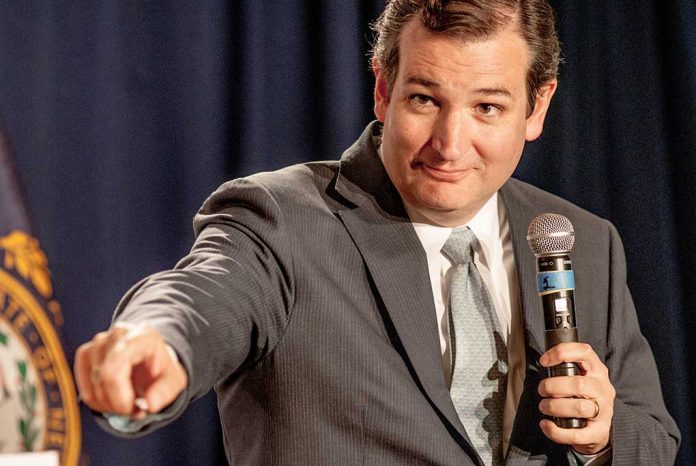 (USNewsBreak.com) – Representative Alexandria Ocasio-Cortez (D-NY) made headlines months ago when she defended going maskless on a trip to Florida. Now, she's been caught maskless again, which Senator Ted Cruz (R-TX) used to his advantage when she took at jab at him on Twitter.
'Shameless Mask Hypocrites': Ted Cruz Fires Back After AOC Hits Him Where It Hurts – His Dancing Skills https://t.co/T2SMb1G1WN pic.twitter.com/22Pzqhs4ZW

— Daily Wire (@realDailyWire) February 13, 2022
On February 13, AOC tweeted a video of her and another woman dancing. AOC was not wearing a facial covering, but the other woman was. She captioned it, "Ted Cruz could never." After admitting he could not, the senator shot back at her, saying, "Dance while you make the 'little people' mask up," followed by #RulesForTheeButNotForMe.
True that. @aoc

Only Dems can be such shameless mask hypocrites.

Dance while you make the "little people" mask up.#RulesForTheeButNotForMe https://t.co/n0hrL8DrTy

— Ted Cruz (@tedcruz) February 13, 2022
This incident is the second incident where AOC got caught not masking up in public. As a strong and outspoken advocate of mask mandates, she's been accused of hypocrisy as a result.
And she's not the only one. Other Democrats like Michigan Governor Gretchen Whitmer, Sen. Dianne Feinstein (D-CA), and California Governor Gavin Newsom are just a few other leftist politicians accused of violating COVID-19 restrictions over the last two years. Multiple people on the Left rant and rave about the importance of wearing a mask have been known to show up at public events bare-faced or otherwise violate COVID-related guidelines. For people who want to keep children masked in schools and have supported mandates across the country, liberals have been criticized for tossing their facial coverings aside far too often.
Copyright 2022, USNewsBreak.com