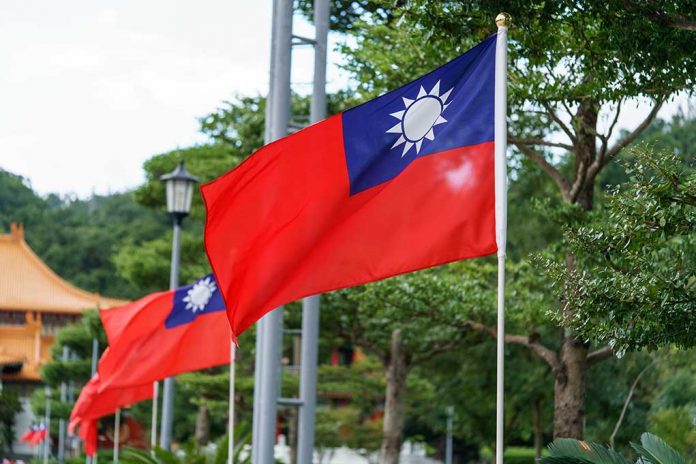 (USNewsBreak.com) – China's claim over Taiwan continues to cause issues. The rest of the world recognizes the sovereign nation's right to rule itself free of China's control. Yet, that hasn't stopped the CCP from attempting to strongarm the island.
Taiwan's application to join the Comprehensive and Progressive Agreement for Trans-Pacific Partnership (CPTPP) on September 20 sits at the forefront of the ongoing disagreement.
China submitted its application for the same deal only a week prior. Taiwan reportedly worries New Zealand, who is in charge of managing the agreement, might approve the communist country first, locking them out.
Taiwan submitted its application to #NewZealand, who handles the paperwork for the trade bloc, but warned that if #China's application were approved, it would struggle to join the #CPTPP.https://t.co/8KBr3d2PiY

— The Epoch Times Australia 🇦🇺 (@AuEpochTimes) September 23, 2021
The CCP operates under the One China policy, which extends its claims to Taiwan. Leaders often pressure other nations to accept the policy, encouraging them to refuse business with the island country out of respect for their power.
To join the CPTPP, all members must approve the application. Reports suggest this may not happen if New Zealand approves China first.
Member nations such as Australia, Vietnam, Brunei, Chile, New Zealand, Singapore, Peru, Canada, Japan, Mexico, and Malaysia raised concerns about bringing China into the deal from day one. Australian Trade Minister Dan Tehan noted the Asian nation needs to adhere to existing agreements first, while Japan's Deputy Finance Minister Kenji Nakanishi hinted the communist nation's large number of government-owned businesses could be an issue.
Nakanishi also pointed out the fact that Taiwan operates under a totally different system — one that much more closely aligns with CPTPP ideals.
Copyright 2021, USNewsBreak.com