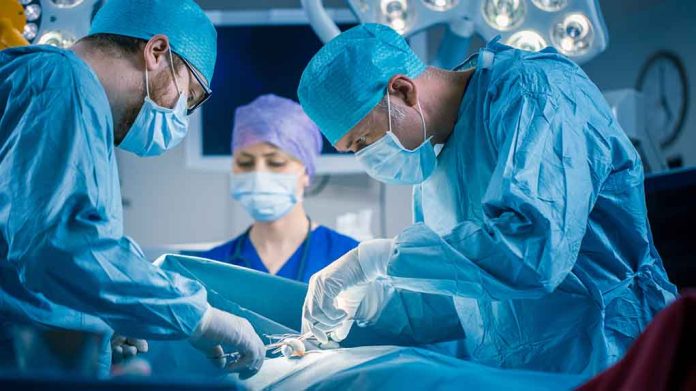 He Lost Both His Arms – But Then Something Amazing Happened
(USNewsBreak.com) – Felix Gretarsson, a 49-year-old man from Iceland, lost his arms in an electrocution accident at work in 1998, when he was only 26. Doctors had no choice but to amputate to save his life after he spent three months in a coma and underwent 54 operations. But today, he again has functional arms due to transplant surgery and a strong will, which led to a genuinely awe-inspiring recovery.
Icelandic man, 49, who underwent the world's first double arm and shoulder transplant 16 months ago reveals he's now able to lift weights at the gym and hug his grandchildren after making miraculous recoveryhttps://t.co/4l3jXnenkL via @Femail

— Amanda (@Joyenz1) May 24, 2022
The recipient told The Daily Mail that he saw an ad in 2007 from Dr. Jean-Michel Dubernard and thought the surgeon might be able to help him. He contacted the doctor in 2011 and asked if they could do a double arm transplant. Dubernard agreed, but only if Gretarsson came to France. The hopeful patient ran fundraisers to get the money for the procedure and moved to France in 2013, where he waited for a donor until January 2021.
It took surgeons at Édouard Herriot Hospital 15 hours to complete the operation. Gretarsson said his doctors warned him it would take time for the nerves to grow back, and he should not expect full functionality. But with hard work, he left them astonished with his accomplishments.
He told The Daily Mail that getting sensation in his hands was an amazing experience, but gaining functionality was a struggle. Still, just nine months after his surgery, he impressed his surgeons by being able to move his fingers, which was unexpected. He said initially, they were aiming for him to be able to move his elbow as a benchmark for the surgery being successful. He now can hug loved ones, use a cell phone, drive a car, brush his teeth, and lift weights. His recovery has been miraculous.
Copyright 2022, USNewsBreak.com