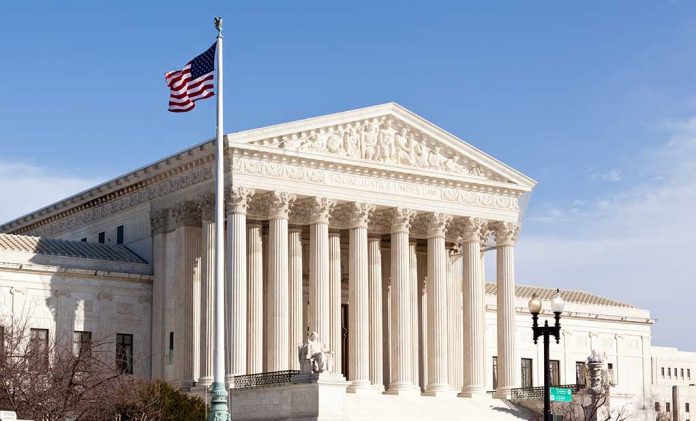 (USNewsBreak.com) – The US Supreme Court heard arguments on April 25 in Kennedy v. Bremerton School District. The case involved a former high school assistant football coach the district let go for praying on the field after games. Bremerton School District says the man violated its policy against religious activities observable by students or the public. Joseph Kennedy claims the district violated his rights to free speech and religion.
The Background
According to the National Association of Attorneys General, Kennedy explained the practice began as a solitary prayer with just him going out on the field after games. He said football team members began joining him. Over time, the prayer exercise started to include speeches with religious tones, and members of the public started joining the group.
He began the practice in 2008 and did so until September 2015 with no issues. It was then when a coach from an opposing team complimented the practice and told the school's principal he liked what was happening but was surprised the school allowed it. This interaction led to the school taking steps against Kennedy.
They warned him, telling him he could continue but could no longer include students. He complied, but eventually, students and others began joining him again. At that point, he received another warning with an offer for him to pray in a private area away from others, but he continued to go on the field after games to pray. The school put him on administrative leave for failing to comply with district policy and eventually ended his employment.
The Arguments
According to CBS News, Kennedy maintained his religious and free speech rights protected what he was doing. Representatives said since he worked for the district at the time, he was not acting on his own accord but rather on behalf of the school. Therefore, the coach was beholden to the district's policies. They also claimed students felt pressure to join in; thus, it violated their freedom of religion.
Kennedy had a lot of support. Friend-of-the-court briefs offered many arguments in favor. One that came from Kirk Cousins, the quarterback for the Minnesota Vikings, compared this situation to Colin Kaepernick's kneeling protests, saying both should have the same protection.
There were also people who supported the school. They argued the situation created pressure on kids to participate even if they didn't want to.
In 2016, Kennedy asked for a preliminary injunction, but the court denied it. He then went on to fight his case in court but lost. He lost again on appeal. In 2019, the US Supreme Court refused to hear the case, but Kennedy asked again in 2021, and the justices changed their decision. The ruling should come out sometime in June.
Copyright 2022, USNewsBreak.com