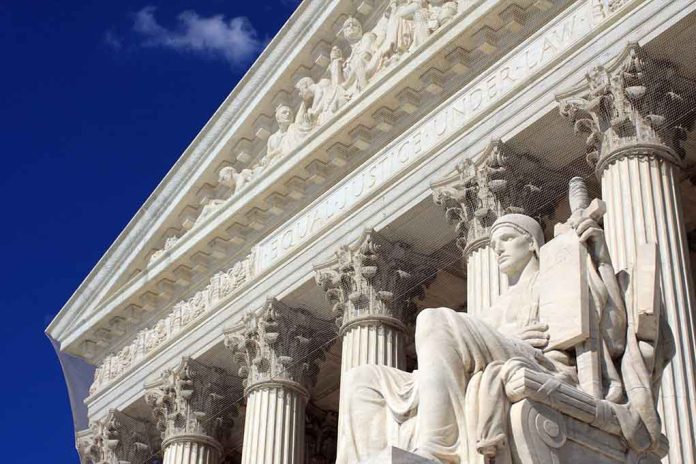 SCOTUS Declines Trump's Request in Documents Case
(USNewsBreak.com) – Former President Donald Trump continues challenging aspects of the recent FBI raid on his Mar-a-Lago home in the nation's court system. The latest chapter in the saga involves Trump's legal team's request to the US Supreme Court on October 4. They asked the Justices to allow the special master access to classified documents seized in the incident. The 11th Circuit Court had previously decided to let the Department of Justice (DOJ) withhold.
JUST IN: The Supreme Court DENIES Trump's request to intervene in the dispute over documents with classified markings taken from Mar-a-Lago. The court offers no explanation for its decision (as is common for actions on the shadow docket), and there are no recorded dissents. pic.twitter.com/YxMr1LGayg

— SCOTUSblog (@SCOTUSblog) October 13, 2022
On October 13, the Supreme Court rejected the request. The Justices did not provide any explanation regarding why they denied access, according to SCOTUSblog.
An independent review by special master Judge Raymond Dearie is happening at the former president's request, but the review doesn't include the classified documents. The arbitrator is looking over seized materials to determine if they have coverage under either executive privilege or attorney-client confidentiality. At the conclusion of his review, Judge Dearie will submit a written recommendation to the district court regarding the final disposition of any documents in dispute.
In the appeal to the Supreme Court, Trump's team claimed the 11th Circuit Court's order to allow the FBI to withhold classified documents would weaken Dearie's ability to carry out his duties. They also insisted holding back materials would undermine the justice system's credibility.
According to CBS News, the DOJ argued Trump has no claim to privilege over classified materials, and therefore, they fall outside the scope of the special master's review.
Copyright 2022, USNewsBreak.com