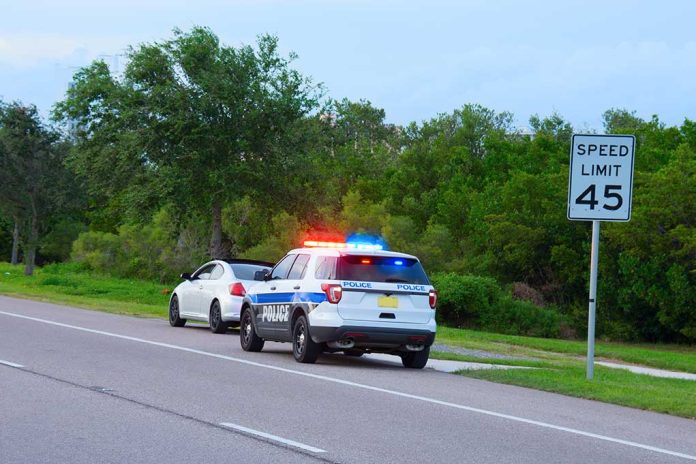 (USNewsBreak.com) – On Interstate 35 just outside Abbott, Texas, an unnamed female Baylor University student had a scary experience on April 1. A man allegedly tried to fool her into thinking he was a law enforcement officer. He pulled her over in an unmarked vehicle with red, white, and blue flashing lights, but the woman felt something was off from the very start.
The traffic stop seemed legitimate at first, but the woman quickly grew suspicious. https://t.co/p4aCyBlygN

— Fort Worth Star-Telegram (@startelegram) April 5, 2022
In an interview with 6 News, the young lady explained she thought the stop was for expired tags, but the supposed officer told her she was speeding. She knew she was going under the speed limit, which was the first sign something was wrong.
When he asked for her license and registration, she told him she felt uncomfortable. The student said the officer wasn't acting right and seemed anxious. He wasn't wearing a bulletproof vest or the correct uniform, and his badge didn't look quite official.
At this point, she reportedly realized he wasn't a real cop. She called 911, and an operator verified her current area had no officers present. The woman said then asked the man for his badge number, which upset him. He tried to enter her vehicle and began yelling at her, so she asked him to leave her alone. Finally, he left.
Sergeant Kevin Hughes of Hill County's Criminal Investigation unit told the station the woman acted properly. She let him know she was onto his scam and quickly but calmly confronted him.
Hill County Sheriff's Office is currently looking for the suspect, described as a Hispanic male about 220 pounds and 5'10" tall. His vehicle was a black Tahoe.
This scary situation could happen to anyone, but thanks to this woman's smart thinking and perhaps a bit of luck, she was able to get away safely.
Copyright 2022, USNewsBreak.com