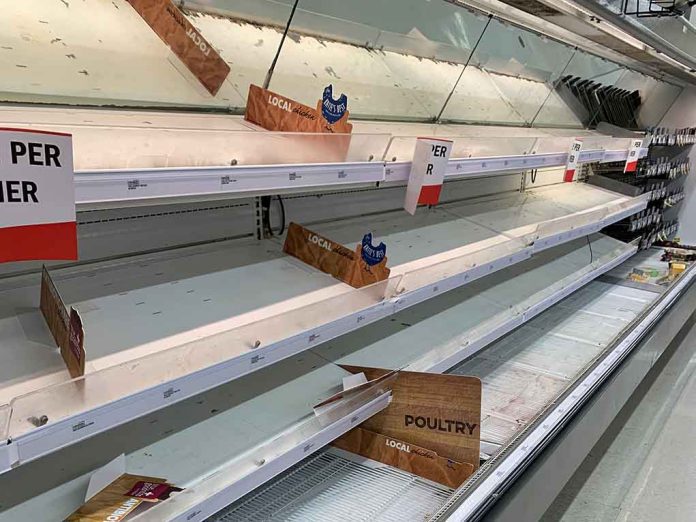 (USNewsBreak.com) – The Omicron variant of the COVID-19 virus continues to sweep across the US. The recent explosion of cases is beginning to negatively affect the already-struggling supply chain. Retailers, suppliers, and drivers are out sick in increasingly high numbers; that's making it hard to keep shelves stocked. Food industry CEOs now say consumers can expect those issues to continue into 2022.
Shortages and Price Increases
Billionaire John Catsimatidis spoke with Fox & Friends First host Todd Piro on January 10. Manhattan's well-known Gristedes grocery chain CEO and leader directly blamed the new Omicron variant for triggering current shortages. He also predicted that grocery prices would continue to rise due to ongoing workforce and shipping issues.
Catsimatidis confirmed that retailers and suppliers are seeing more employees sick with the virus off work. With fewer people present to produce, ship, or stock the food, it's harder to keep shelves properly stocked.
According to Catsimatidis, grocery stores often raise prices in response to shortages in an attempt to keep people from buying as much of the item. That theoretically should preserve some measure of stock for the people who truly want or need it.
As for what the near future might bring, Catsimatidis says the most significant impact will likely be on meat and eggs — especially in the Northeast. Shortages will likely continue for at least the next six weeks.
Employees at Their Limits
In another interview on Fox & Friends, Egg Innovations CEO John Brunnquell backed up Catsimatidis' statements. He predicted that labor issues would eventually translate into lower supplies, triggering increases in the price of eggs.
Brunnquell told host Ainsley Earhardt that producers continue to push their employees to work overtime and at maximum capacity to keep up with demand. However, that cannot continue long-term. If demand remains high and the virus continues to negatively affect the supply chain, eggs will become harder and harder to access.
Industry Under Strain
Major food producers are reporting worker shortages due to Omicron. Conagra Brands and Campbell Soup both report an increased need for time off among employees, primarily due to the virus. Hiring new workers isn't the solution, either. Case numbers rise; new staff members are just as likely to suffer the same problem.
Everyone feels stretched thin right now with no real relief in sight. The CDC says Omicron is more contagious than previous variants of COVID-19, so the shortages and price increases could be here to stay for at least some time. It is difficult to predict when we'll see a true return to normality.
Copyright 2022, USNewsBreak.com