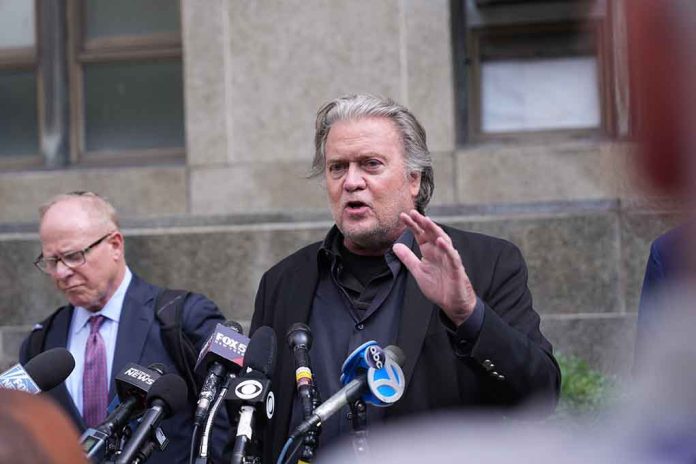 Judge Delays Steve Bannon's Prison Sentence
(USNewsBreak.com) – On November 7, Judge Carl Nichols filed a stay to keep Steve Bannon, a former White House strategist during the Trump administration, out of prison until his case goes through appeals. Nichols, who presided over Bannon's case, felt there were legal questions in the matter that could ultimately result in a new trial or reversal of the conviction in the higher court.
Steve Bannon, former President Donald Trump's chief White House strategist, will remain free from serving a four-month prison sentence as he appeals his recent conviction on two counts of criminal contempt of Congress. https://t.co/jG3cspJ2UY

— CBS News (@CBSNews) November 7, 2022
The former Trump insider received a four-month sentence and a $6,500 fine on two counts of criminal contempt of Congress. He refused a deposition by the January 6 committee and would not turn over requested documents despite a subpoena.
According to news outlets, prosecutors alleged that Bannon's refusal to comply showed that he was siding with Trump over the law. However, Bannon's legal team tried to claim the strategist was only following his attorney's advice when not submitting to the committee. Nichols refused to allow the argument as a defense in the case due to precedent, but he said it might be important upon appeal.
The judge noted Bannon's legal representatives stayed in communication with the committee, and some of the information may very well have protection under executive privilege, another argument of the defense. But those issues are for the appeals courts to hear.
Bannon is taking the matter to the Washington, DC Circuit Court of Appeals. The delay in imposing the sentence will allow him to remain free until he moves through the higher courts and has confirmation of the conviction.
Copyright 2022, USNewsBreak.com