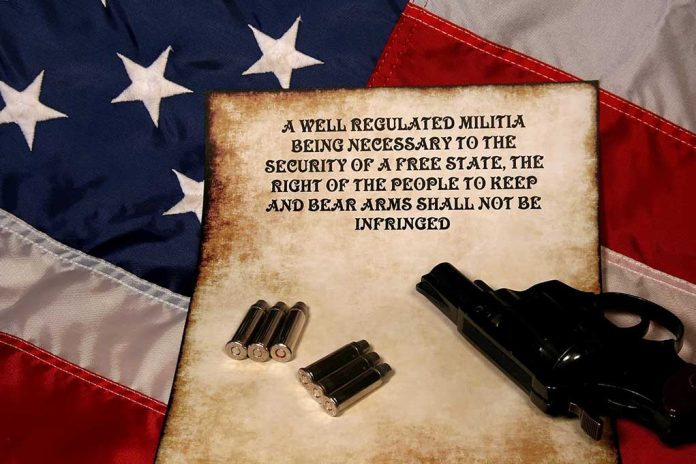 (USNewsBreak.com) – President Joe Biden signed the Bipartisan Safer Communities Act (S.2938) into law in June 2022, the first gun control measure passed into law in nearly three decades. Then, in January 2023, the Department of Justice submitted a new rule to the Federal Registry enhancing regulations on the heightening requirements for stabilizing braces, devices reportedly used to convert pistols into short-barreled rifles. Attorney General Merrick Garland signed off on (ATF final rule 2021R-08F) prior to its submission.
On Thursday, February 9, 24 states attorneys general, led by West Virginia AG Patrick Morrisey (R), filed a lawsuit against the Biden Administration contesting the rule that places the regulation of stabilizing braces under the National Firearms Act. The coalition argues that the Bureau of Alcohol, Tobacco, Firearms and Explosives (ATF) issued letter rules for more than a decade stating the devices "would not alter the statutory or regulatory classification of a pistol or other firearm." The new rule, according to them, would turn that all on its head.
"Let's call this what it is: an effort to undermine Americans' Second Amendment rights."

A coalition of 24 states filed a lawsuit against the Biden administration over a rule that subjects pistols equipped with stabilizing braces to federal regulation. https://t.co/V65jEJMUx1

— The Epoch Times (@EpochTimes) February 10, 2023
Now, if the rule stands, lawful gun owners will have to comply with the newer regulations, including applying for a $200 permit, undergoing fingerprinting with the ATF, and registering themselves and their firearms in a federal database. Failure to do so would result in a felony charge, up to 10 years in prison, and a fine of up to $10,000. Additionally, there would be restrictions on the transfer of the brace.
The lawsuit claims adding a stabilizing brace does not make a gun into a short-barreled rifle, and the statutory definitions provided reaffirm this. In a statement, Morrisey says it's "an effort to undermine" Second Amendment rights, adding that the rule was "a completely nonsensical regulation."
The coalition of attorneys general is seeking reprieve from this rule, asking the courts to find it unlawful and a violation of Americans' Second Amendment rights.
Copyright 2023, USNewsBreak.com