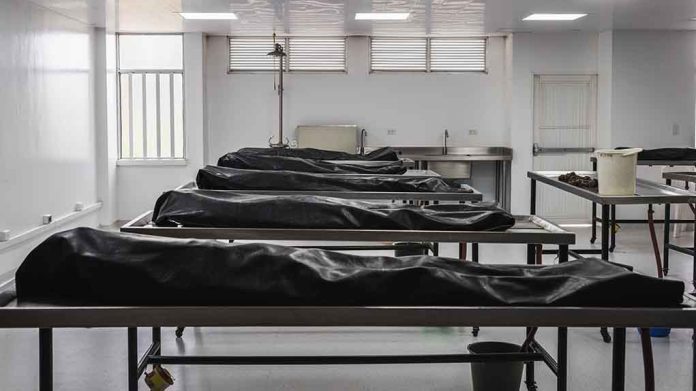 (USNewsBreak.com) – When a loved one dies, you expect them to move quickly through an autopsy and on to a funeral home. The idea that a deceased loved one's body might end up sitting in a parking garage seems unthinkable. Yet, that's exactly what happened in Maryland when local morgues reportedly ran out of space.
Authorities said they had to rent space in a parking garage to store an excess of bodies due to a backlog within the medical examiner's office. An escalation in deaths stemming from COVID-19, drug overdoses, and violence, combined with severe staffing shortages, allegedly contributed to the overload.
Baltimore parking garage turned into morgue for over 200 bodies https://t.co/NpOs96r1t3 pic.twitter.com/NbU3HJP6k3

— The Hill (@thehill) February 17, 2022
The parking garage slash storage facility is located in Baltimore; authorities allegedly pay $30,000 a month to use the space. Official reports suggest that about 200 bodies remain on-site in refrigerated truck trailers awaiting services.
Maryland's Department of Health added 21 positions and is working to attract more workers to help relieve overwhelmed staff by offering competitive pay. FEMA also stepped up to help, sending a pair of pathologists and two assistants to the region.
Chief Medical Examiner Victor Weedn projects the backlog will continue to grow throughout February, likely reaching a high of 300 cases by the end of the month. For now, it looks like families will have wait longer for the office to release their loved ones' bodies for burial.
Copyright 2022, USNewsBreak.com