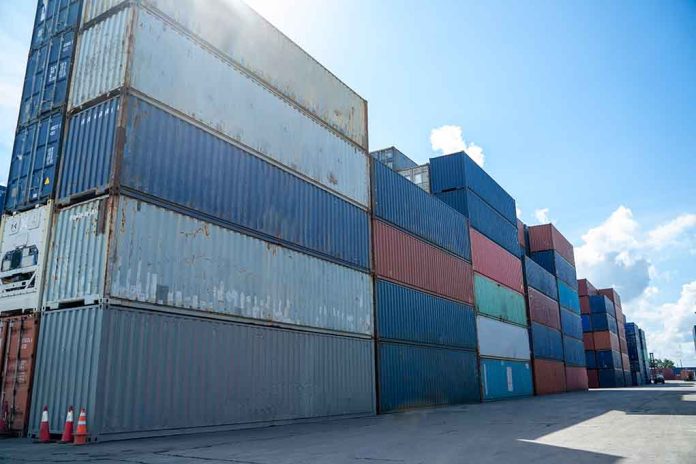 Arizona Pushes Back Against Biden Admin's Demands
(USNewsBreak.com) – President Joe Biden quickly moved to halt work on the wall that former President Donald Trump was building along the southern US border when he took office. Since then, governors in states running along the area have been upset with the handling of the situation and have taken matters into their own hands. Arizona Governor Doug Ducey ordered a makeshift wall of shipping containers to go up in gaps along the border on August 12. Now, the Biden administration wants them to come down.
Arizona refuses Biden administration demand to remove shipping containers along border https://t.co/T5ioIkn6FA pic.twitter.com/rhBUvEXGOW

— The Hill (@thehill) October 20, 2022
In response to the request to remove the containers from the Bureau of Reclamation, the director of the Arizona Department of Emergency and Military Affairs, Allen Clark, sent a refusal letter on October 18. The agency said the Biden administration has yet to do anything to address the massive illegal immigration issue, and the makeshift barrier will remain unless they receive "specific details" on a plan to fix the gaps.
On October 21, Ducey also revealed he was suing the administration for the right to keep the shipping containers in place. "We're not backing down," he declared in a statement.
Arizonans cannot — and will not — wait for federal bureaucrats to do their job and secure the border. We're taking action now. https://t.co/rsrns8uwlB

— Doug Ducey (@DougDucey) October 19, 2022
The Bureau of Reclamation had reportedly told the state there were plans to fix those areas, which is why they wanted the makeshift portions removed. In addition, some of the containers are on tribal land, which has prompted complaints from Cocopah Indian leaders, according to The Hill.
Copyright 2022, USNewsBreak.com