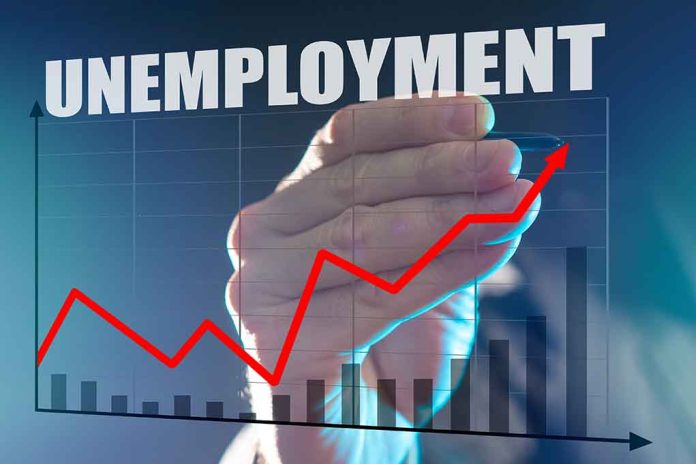 These DEBTS Are Still Unpaid – Businesses Under Threat?
(USNewsBreak.com) – The COVID-19 pandemic led to waves of people collecting unemployment due to layoffs. States are responsible for paying out these benefits, but they can borrow money from the federal government when their funds run low. This situation arose in 22 states. While most have paid back the money, seven still have a balance they must clear by November 10. Of those, at least four, all of which are run by Democrats, have decided not to use surplus funding to settle the balances. This means businesses will likely be charged for the expenses in the coming year.
The Unemployment Deal
The US Department of Labor loaned these states large amounts of money so they could cover every unemployment claim. Many states have already repaid the debt or have plans in place to do so.
But California, Connecticut, Illinois, and New York haven't made a dent in what they owe. California needs to pay off around $17.8 billion. The lowest loan balance is Connecticut at about $170 million.
If they fail to cover what they borrowed, the federal government will begin charging businesses $21 per employee, according to a report from The Wall Street Journal. The state will also raise taxes on them to help fund unemployment.
The Response
Business owners are unhappy with the prospects of their states passing on debt. The increases in fees and taxes could hurt their bottom lines. KUTV reported on the issue, quoting a restaurant owner who said businesses already have enough to deal with between labor shortages and increased costs. "Small businesses will continue to be at risk," he argued, unless unemployment debts are taken care of.
Why States Haven't Paid
According to the WSJ, Governor Gavin Newsom (D) of California asked the Democrat-controlled legislature to release $3 billion to service the outstanding loan. Still, after negotiations, they only agreed to pay $1 billion of the $17.8 billion. They did decide to help small businesses cover the $21 charge starting in 2024.
Connecticut has $170 million outstanding and has already paid most of the $725 million borrowed initially. Lawmakers decided to cover pension debt to the tune of $3.7 billion instead because of its higher interest rate. They also gave voters a gas tax holiday and rebates to families with children.
In Illinois, state officials paid $2.7 billion earlier this year. Talks between interested groups continue about how to clear the remaining balance.
New York had over $11 billion in its books to start 2022, which could have paid off the money the state owes to the federal government. Business groups tried to lobby for $2 billion to be paid toward the debt, but lawmakers said no. A spokesperson said the state has money to help small businesses when the fees hit, but many lawmakers are pushing  Governor Kathy Hochul's administration to take immediate action. In a recent letter, lawmakers said paying off current debt is the "responsible" choice, and added that letting debt grow would have a negative impact on economic recovery.
States often argue the money they have needs to go toward items that will better benefit the public. Many of them are also saying they are trying to implement ways to support businesses down the line. Do you think they are making the right move by holding off on paying down this debt?
Copyright 2022, USNewsBreak.com