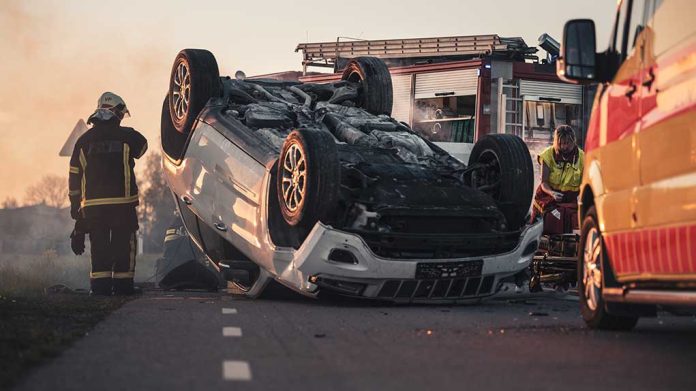 Human Smuggling Attempt Reportedly Goes Awry, Killing 3
(USNewsBreak.com) – Criminals have created networks for sneaking people into the United States to avoid immigration laws. But ICE has warned that these operations often focus more on making money than ensuring safe passage, which means the process can be incredibly dangerous. Three individuals who were allegedly part of a smuggling plan lost their lives on October 2.
Texas borderland car crash leaves three people dead in human smuggling attempt https://t.co/h6dGk7bOrT

— Fox News (@FoxNews) October 3, 2022
Fox News Digital reported Christopher Olivarez from the Texas Department of Public Safety confirmed three deaths and three injuries in a rollover accident that occurred in Kinney County. The Acura was reportedly speeding excessively when an animal entered the roadway, and the driver made a fatal maneuver to avoid hitting it. The vehicle went off the road, flipped, and rolled several times before landing upside down.
Officials have not released the names of the individuals who died, as they are notifying family, but they did say the driver and two passengers perished in the accident. A medical helicopter transported two of the injured passengers, and another victim went to a nearby hospital.
Texas has seen multiple fatal accidents involving human smuggling in recent months. In June, for instance, four migrants died, and three others suffered severe injuries, after engaging in a high-speed chase with Border Patrol agents. More recently, on September 28, a teen girl was reportedly attempting to sneak nine people into the country when she was involved in a three-vehicle accident that killed two.
Do you there is more our authorities could be doing to address ongoing human smuggling issues?
Copyright 2022, USNewsBreak.com