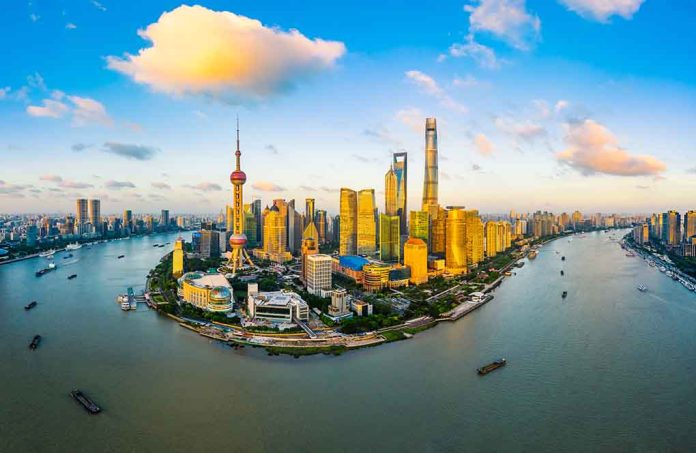 (USNewsBreak.com) – As COVID-19 cases remain low in the United States, China is seeing a surge in infections. The increased number of people with the virus led authorities to instigate a lockdown in Shanghai beginning on March 28. The move impacts over 28.5 million people, according to World Population Review.
Shanghai Locks Down
CBS News reports that officials in China will begin a two-phase lockdown process in Shanghai, starting with Pudong in the east on March 28. The area includes the international airport and financial hub, raising concerns about the economic impact. The shutdown lasts for five days, during which residents must undergo testing.
There are no deliveries into the area during the process. Checkpoints are around the edges of the district to accept any drop-offs. Public transportation will not run, but essential businesses may stay open.
Once the five days pass, the lockdown procedures shift to Puxi in the west. This area is the more populated part of the city with fewer impacts expected on the financial businesses.
Even so, Chinese authorities said the two-stage approach is necessary because this is the main financial district. They could not close both areas at the same time due to business disruptions.
The Impact of the Order
After the announcement, residents rushed to get essential goods. They packed stores in the city with frenzied buying. Empty shelves were commonplace, and some fighting broke out between people trying to get what they needed.
Some areas began closures prior to the March 28 date. Authorities shut off some housing compounds with barriers. Disneyland closed, and Tesla suspended operations. Organizers canceled the Tomb Sweeping Festival for April 5 and moved memorials online.
The Outlook
The lockdown comes after a month of struggling to keep infection rates down. In the past, authorities have been able to control the spread of COVID-19 with small shutdowns of impacted businesses or housing areas.
The infection rate numbers are low compared to the US, but it's making records for the city. Monday saw 3,500 positive results. CBS News made note of the locally made vaccines, which have been rated as less effective as those in other nations. Reportedly, some are concerned that China won't be able to keep the virus under control as a result.
Residents worry over how China's zero-tolerance COVID-19 policies and procedures will impact businesses that cannot operate virtually. They also feel the country needs to find a long-term solution that provides a better balance between health safety and a productive society.
Do you think lockdowns work to help fight COVID-19 surges, or are they a failed approach that causes more harm than good?
Copyright 2022, USNewsBreak.com