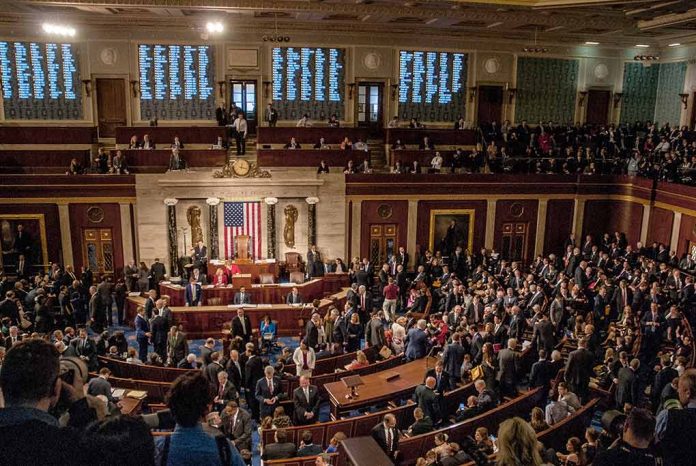 (USNewsBreak.com) – When a party holds the majority in either chamber, members can make it difficult for the opposing side to pass legislation, especially on hot-button issues such as abortion or climate change. Currently, the Senate has a 51-49 Democratic majority, which can and has hindered GOP-led bills, while pushing through the Left's wish list. However, the Republicans have a weapon in their arsenal that they've not been afraid to use in recent days to attack Biden Administration Policies.
What are Disapproval Resolutions?
Under the Congressional Review Act of 1996, Congress has the power to introduce a joint resolution of disapproval. It effectively overturns a newly enacted federal agency rule — within 60 days — and mandates authorization to pass similar rules in the future. Once the disapproval resolution has been introduced, they only require both chambers to reach a simple majority. Then, it goes to the president's desk, but it doesn't stop there. The commander in chief can veto the measure, after which point it would need a two-thirds majority in both the Senate and House of Representatives to override the veto.
Policies Affected by Disapproval Resolutions
So far, there have been two major introductions of disapproval resolutions that have successfully passed the Senate in 2023. Despite Dems holding the majority, several have sided with the GOP, which has helped push through the measures.
In March, Sen. Mike Braun (R-IN) introduced a disapproval resolution to overturn a rule that would allow those who manage retirement plans to consider environmental, social, and corporate governance guidelines (ESG) when deciding where to place investments. The Senate passed this 50-46. Senators Joe Manchin (D-WV) and Jon Tester (D-MT) joined Republicans in the vote. President Joe Biden later vetoed it.
Senator Shelley Moore Capito's (R-WV) disapproval resolution targeted the Biden Administration's expansion of the definition of waterways, a move that resulted in more federal regulation of pollution. In this vote, more Democrats joined Republicans to pass the measure 53-43. Again, Manchin and Tester joined the GOP, as did Independent Kyrsten Sinema (AZ) and Democratic Senators from Nevada, Catherine Cortez Masto and Jacky Rose. As with the ESG rule, Biden vetoed this action as well.
This is only the beginning. There are other upcoming votes as well on matters such as the Endangered Species Act and environmental regulations, including trucking emissions. Republicans know that they have little success in getting these laws or rules overturned, but it serves another purpose, according to The Wall Street Journal. When the GOP can draw Democrats to its side, it demonstrates a bipartisan effort, one that can influence voter decisions next year in both the presidential and congressional elections.
Copyright 2023, USNewsBreak.com