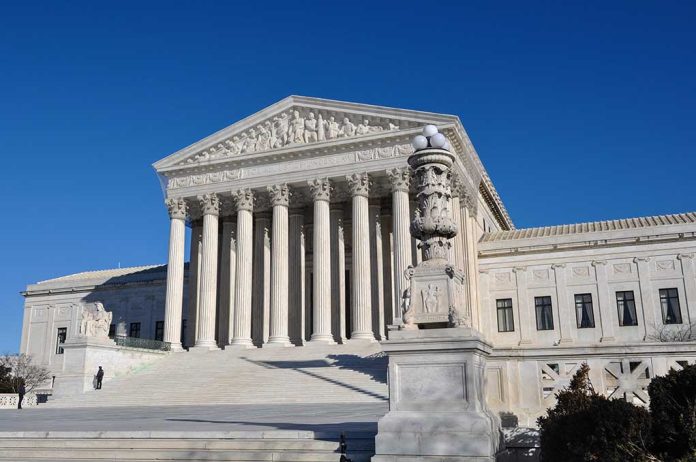 (USNewsBreak.com) – In 1998, Richard Glossip was convicted of capital murder. He had been accused of hiring a hitman to kill his boss, Oklahoma City, Oklahoma, motel owner Barry Van Treese. For over two decades, Glossip sat on death row. He was sentenced to die on May 18, after receiving two delays from Governor Kevin Stitt (R), but the Supreme Court recently intervened. According to reports, SCOTUS just temporarily blocked the execution.
Supreme Court blocks Richard Glossip's execution in Oklahoma https://t.co/xmnIynO75i

— The Washington Times (@WashTimes) May 5, 2023
In 1997, Justin Sneed, a handyman, beat Van Treese to death with a bat. He later accepted a plea deal from prosecutors, which would see him spend life in prison in exchange for his testimony against Glossip.
Over the years, many officials, including the State's Attorney General Gentner Drummond, have said that there were a lot of inconsistencies uncovered by an independent counsel that "cast doubt on" Glossip's guilt. Drummond even applied to vacate his conviction because of information withheld — namely Sneed's psychiatric condition — during the trial. The motion was dismissed when the Oklahoma Court of Criminal Appeals upheld the sentence on April 20. Just six days later, the Oklahoma Pardon and Parole Board denied him clemency, and Stitt said he wouldn't step in any further.
Donald Knight, who is working the case pro bono, has spent years trying to clear Glossip's name. The inconsistencies in Sneed's testimony, along with potential missing or lost evidence and shoddy police work, are among his reasons for seeking a new trial. Republican lawmakers also requested an independent review of the case, and the results backed up Knight's claims. Kevin McDugle, a state representative, said if the man is put to death, he will vote to outlaw capital punishment in Oklahoma.
Not everyone agrees with the decision to delay Glossip's death sentence. The victim's family is eager to move ahead with the execution.
Glossip has filed an appeal with the Supreme Court, which will have to decide whether to hear the case. Until then, Glossip's life hangs in the balance.
Copyright 2023, USNewsBreak.com